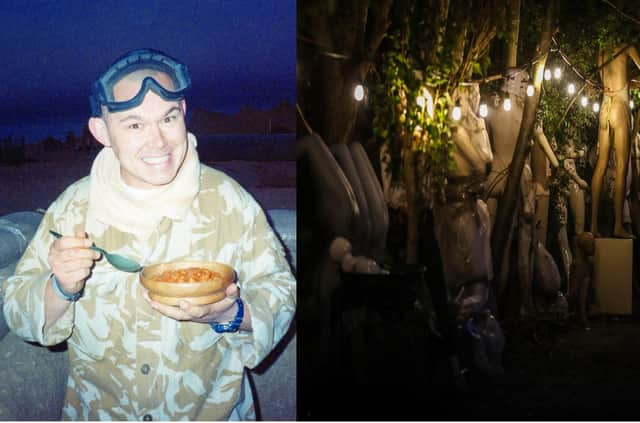 Royal Navy veteran Jason Roffey, from Sleaford, will be spending two nights sleeping outside at Mannakin Hall, Fulbeck, on Friday March 10 and Saturday March 11 as part of a fundraising campaign to raise crucial funds for homeless veterans affected by the cost of living crisis.
Mannakin Hall is home to around 15,000 shop mannequins and operates from what was RAF Fulbeck as a mannequin hire business and film location run by Roz Edwards.
Jason, a member of the Sleaford Armed Forces and Veterans Breakfast Club, is taking part in Royal British Legion Industries' Great Tommy Sleep Out which will see participants brave the cold for a night in aid of the roughly 6,000 military veterans living on UK streets.
Last year, the demand for RBLI's services for homeless veterans increased by 45 per cent - and with the cost of living crisis, the charity expects the cost of housing those it supports to more than treble.
Every penny raised by the Great Tommy Sleep Out campaign will go directly to RBLI's wide range of services providing a home, welfare and employment support to military veterans.
Jason said: "You hear daily about the struggles that our members of the Armed forces and veterans go through and where their journeys take them, some of these journeys can take a wrong turn and the RBLI help people get back on track, so if spending a couple of nights outside in the cold like a lot of veterans do every night of the week can raise a little extra funds to help then I will have a go and put my long johns on."
He explained: "I had heard about Mannakin Hall through friends and thought the place looked perfect to add another dimension to a couple of nights under the stars - and when asked, the awesome Roz did not hesitate to give me permission to camp out there and support myself and the charity as well."
Delighted Roz said: "I just hope all the mannequins behave themselves!"
To donate or find out more, visit www.RBLI.co.uk/sleepout