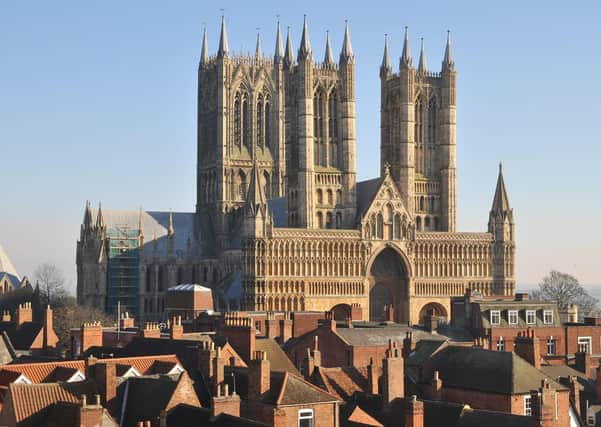 After previously reporting the news that the Bomber Command centre had been thrown a financial lifeline to help it adapt to the loss of income cause by missing out on bookings and reveneue during the pandemic, it has been announced that Lincoln Cathedral is benefitting too.
It is one of 445 heritage organisations across the country set to receive a share of £103 million, to help restart vital reconstruction work and maintenance on cherished heritage sites, keeping venues open and supporting those working in the sector.
Lincoln Cathedral will receive a grant of £970,600 from the Culture Recovery Fund which will ensure that essential maintenance of the building can continue, securing the building for future generations, and that it can continue to welcome as many people as possible to safely visit and worship at the Cathedral.
The care of the Cathedral's fabric and its assets relies heavily on income from investments, visitor and commercial activity and fundraising initiatives. All of these have been severely restricted due to the COVID-19 pandemic, leaving the Cathedral to fund its core operations with dwindling resources and limited opportunities to raise funds.
This vital funding is from the Culture Recovery Fund for Heritage and the Heritage Stimulus Fund - funded by Government and administered at arms-length by Historic England and the National Lottery Heritage Fund.
The Architectural Heritage Fund (AHF) has also been awarded a grant from the Culture Recovery Fund through Historic England. The AHF will use the funding to support charities and social enterprises occupying historic buildings to develop new business plans and strategies for organisations affected by the pandemic.
The Very Revd Christine Wilson, Dean of Lincoln, said: "In March Lincoln Cathedral closed its doors to its worshipping community, pilgrims, staff, volunteers and visitors alike; the first time in its recent history that the building stood silent and empty. The impact on the Cathedral has been profound and the loss of revenue from all sources means that our heritage, traditions and people are under threat today more than ever before.
"As we continue to make difficult decisions on a daily basis, this grant will help to stabilise the Cathedral's finances as we continue to recover and build a sustainable future. The building is once again open to visitors and it is a pleasure to see the Cathedral being used for its original purpose now that worship has resumed. The funding will ensure that we can preserve this internationally important building for future generations and continue the vital restoration work.
"The team have shown incredible creativity, flexibility and determination to continue working with all of the communities we support and enabling as many people as possible to safely visit and worship at the Cathedral, and this funding will enable us to build on this work.
"In short, the grant from the Culture Recovery Fund is a lifeline for the Cathedral and is helping to ensure we can continue to keep its doors open as a place of worship, welcome, hospitality and heritage."
Duncan Wilson, Historic England's Chief Executive said: "It is heartening to see grants, both large and small, from the Government's Culture Recovery Fund helping heritage sites and organisations across the country which have been hit hard by the effects of Covid-19. These grants range from giving skilled craft workers the chance to keep their trades alive to helping heritage organisations pay the bills, and to kick-starting repair works at our best-loved historic sites. The funding is an essential lifeline for our heritage and the people who work tirelessly to conserve it for us all, so that we can hand it on to future generations."