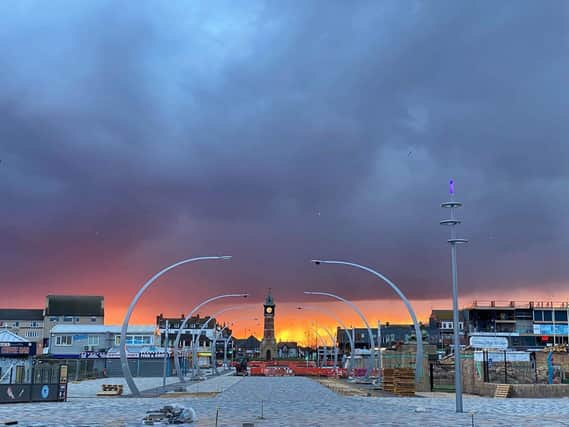 John Byford took the picture on Friday evening while out walking his dog just as the angry clouds were lit up by the flaming sunset.
Minutes later they were both was soaked by a downpour of rain.
"I was near the beach and walked up to Tower Esplanade because I wanted to capture the sky behind the Clock Tower," he said.
"We got drenched by the shower but getting that picture was worth it."
When we shared the image on the Skegness Standard Facebook page readers had plenty to say about the stunning scene and the new pedestrianisation in Tower Esplanade.
Tracey Turner commented: "Beautiful - love Skegness. So nice to see it having money spent on it. I'd rather go to Skegness than Blackpool or Rhyl."
Paul Michael Timmins said: "Nice to see money being spent on Skeggy at last. I hope this is 100% pedestrian now. Looks awesome close up. Great sky shot."
Others were not quite so sure. Jacqueline Ingamells said: "Lovely sky, but I don't like the paving. Not good for some with eyesight issues."
Stef Bourne thought money could have been spent better. She said: "Waste of cash - could have been spent on better things, plus the lights are an absolute eyesore."
However, Joyce Ainsworth didn't agree: "Looks lovely. Yes we can all say funds could have gone somewhere else but no one would have agreed as to where."
For Darren Barker there was something just not quite right about the picture: "I think they need to relocate the Clock Tower a couple of meters to the right so it sits central to it all. My OCD getting the better of me."
Benniess Pettis thought there was something missing: "Pity they got rid of the trees a bit of greenery would have been nice."
Valerie Long said: "Here's to a great, healthy summer season!"
There was also concern about how visitors would access the car parks on the foreshore now Tower Esplanade has been pedestrianised.
Cyd-charisse Bradford said: "I know I'm probably being thick but if all that road has been pedestrianised how do you get to the two car parks?"
Julia Raven had the answer: "It's not completely pedestrianised... you still drive through it to get to Embassy car par. To get to the other one you carry on along south parade to the end of boating lake then turn left into car park entrance."
For many it made them welcome the easing of Covis-19 restrictions so visitors can return to Skegness. Lianne Hulbert said: "I miss my second home so much." And Jeanette Holland added: "Great picture - can't wait to go back."