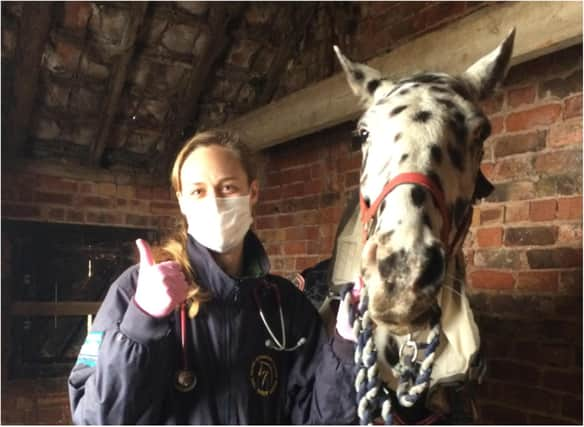 It's been possibly the craziest times I've ever known recently, living smack bang in the middle of a peaking pandemic-Covid 19.
Coronavirus seems to have completely changed the way we live across the UK and the world at large.
Just before the disease spread, I brought forward my young horse's vaccinations.
This was just before they brought out social distancing.
One of my favourite vets, Silvia, came out to vaccinate Sully.
At the time it seemed she was being pretty strict wearing gloves and face masks she'd bought whilst travelling on her holidays. However, as the disease is now so wide spread it's fair to say she was very sensible.
So how has the pandemic changed our lives here with our horses?
Luckily, on lockdown we are situated on an eight acre equestrian property with our horses living at home. Not much has changed there, thankfully. We get to see them whenever we want.
Some of my horse pals have their ponies in livery and are unable to go to see them. I really feel for them.
Friends who look after their horses can still travel to care for them. They relish the time with their horses. As many of you probably know, horses are so good for our mental health.
Whilst we don't have an arena to ride in we are able to keep pottering about in our fields. My daughter does PE on her pony and we enjoy the exercise and fresh air on our land.
When social distancing first started we did get some extra feed in and a couple of bags of shavings for their beds, but we couldn't afford to go crazy and buy months worth of things. At that point we had no idea how serious the pandemic would get here.
Our local horse feed supplier has closed its doors too, but fortunately Iron Horse from Doncaster deliver out our way and in the present climate, are doing so for free to make sure horses can still be cared for.
Jo, the manager there was super helpful. I managed to get bedding and feed delivered direct to the house.
We obviously can't have any riding lessons at present and pony club has stopped for the time being, plus all competing. It seems the equestrian world is on stand still and we all wait with baited breath for a vaccine to be developed at break neck speed.
As time rolls by, I think the realisation that this will be the new 'normal' is finally sinking in.
There won't be shows or riding lessons for sometime; I imagine until a vaccine is developed. In fact, we've got everything crossed here...hooves, fingers and toes that someone sorts one fast. Until then - stay safe.