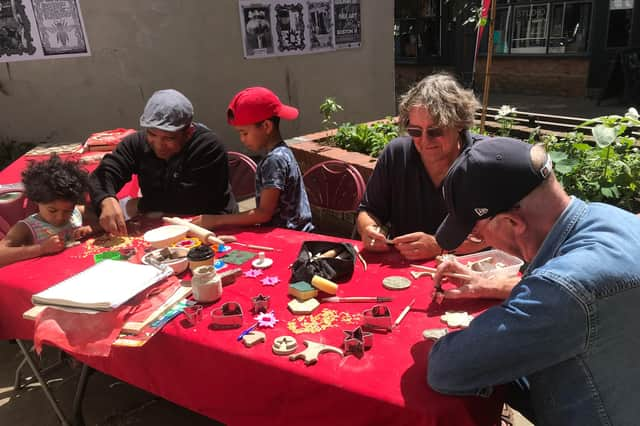 Public artist Karen Francesca has been commissioned by arts organisation Transported to make a mosaic mural for this space.
Almost a thousand people from the local community have been working with Karen and Transported on the project in community art sessions dubbed the 'Boston School of Mosaic'. Participants have been making ceramic tiles that will be part of the finished artworks.
Posters showing the history of the area will be put up on site tomorrow (Saturday).
There will also be further community art sessions held on the weekend, 10am-1pm each day, which are free to take part in.
Dolphin Lane sits at the heart of the town, one of several routes to the market place established in medieval period.
The aim of the project is to not only teach participants making skills but to also to celebrate heritage, make more people aware of Boston's rich and unique history.
A spokesperson for Transported said: "The team have also been regenerating the courtyard, planting an edible garden with a birch tree, grape vines and passion flowers to climb the walls. Neighbours and local businesses are helping to establish the new plants.
"The School is supported by Heritage Lincolnshire, Boston Townscape Heritage Project, Heritage Fund, Boston Borough Council, Laticrete, Smartmove Hotels and ASDA Foundation.
"The Boston School of Mosaic is being established, making sure that people have ongoing access to the arts, in a practical and accessible way."