Footage has been captured of three people riding jet skis along the River Witham and causing a 'danger to wildlife' – according to the resident who filmed it.
The video, posted to Twitter, shows the three riding up and down the waterway alongside the Stump church and close to the police station, causing waves and noise.
The resident, Twitter user @BTResident, writes: "What's the situation with this behaviour? Noise nuisance, disturbing wildlife, birds nesting, anti social. People live along this bank and it's a conservation area. [expletive]"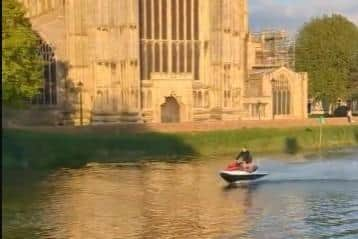 Speaking to the Boston Standard, they added: "I filmed it on Sunday 7th May, and no I didn't report it directly, no point, nothing gets done.
"It's happening on the river directly opposite the police station, so you'd think it would not need reporting, they just need to look out the window at what all the noise is."
A spokesperson for Lincolnshire Police said: "We are aware of this and looking into it along with the NCA and the Port of Boston.
"Any antisocial behaviour on the river by jet skis will be prosecuted."