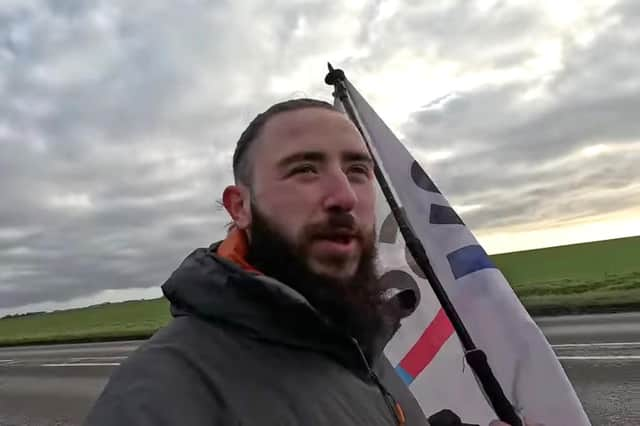 Scot Daniel McNeil began his epic walk around the UK coastline almost two years ago, in March, 2021 - setting off from his hometown on Dalbeattie.
The Royal Artillery veteran claims to have sold everything he owned before taking on the challenge - where he hopes to gain some 'amazing experiences'.
He is undertaking the feat, which is expected to take three year to complete, to raise money for SSAFA (Soldiers' Sailors' and Airmen's Families Association).
Earlier today he posted a Facebook live video as he walked south alongside cabbage fields on his way into Wrangle, where he said he would get his lunch.
"I'm currently walking past some cabbages and it's absolutely stinking," he laughs. "But, it's a good day for it."
On his fundraising page, Dan explains: "This trip should take roughly three years to complete, continuously without stopping only for rest days.
"Please join our adventure around the UK coastline to help inspire those who want to follow their dreams, help veterans with financial difficulties and break the stigma around mental health.
"Openly talking about the problems this society faces and the solutions we can take to create a healed, joyful, loving world."
Speaking to SSAFA at the start of his journey he explained: "I joined the Army when I was sixteen and served in 19 Regiment Royal Artillery. Since returning to civilian life it has been tough for me dealing with chronic pain, depression, and anxiety. SSAFA came and helped with my bills and lifted a weight of my shoulders and I can't thank them enough for everything they've done.
"One day it came to me to start a walk around the coastline of Britain to help those who are struggling with civilian life. I've sold everything I own; all my materialistic things and I hope to have some amazing experiences ahead."
To support Dan and help him reach his target of £10,000 for SSAFA, visit his JustGiving page.