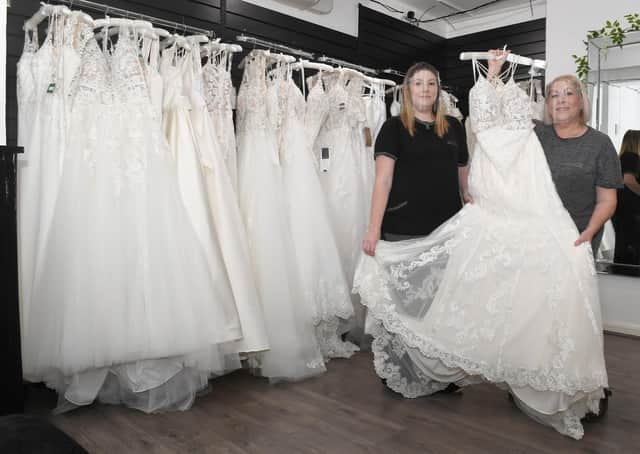 After economic doom and gloom as major names like Debenhams and Arcadia were toppled by coronavirus restrictions, the largely independent nature of many businesses in Sleaford town centre has seen it perhaps emerge in better shape.
An example of this revival can maybe easily be summed up in the rebirth of Bristol Arcade.
The former mews of the Bristol Arms Hotel is owned and frugally run by former baker John Martin. Shopkeepers point to his sometimes more pragmatic approach to rent levels to give new businesses a chance to get established as part of the attraction.
Now his daughter, Lucy Newton runs one of the business units, Beautifully Hand Made Gift Shop. after being allowed to trial it as a short-term, 'pop-up shop' four years ago.
She has the help of a couple of volunteers and now works there full-time.
Lucy said: "I have always made and created things at home. I had a little online hair accessory business and did fairs. I opened for Christmas with a couple of friends that made children's clothes and it grew from there, with more and more people coming wanting to display their stock with us."
She remarked at the number of little makers hidden away around the town and they get such loyal support locally.
Lucy said the last year had been really tough. "It is just worrying when we don't know if it will end and whether things will get back to normal, but we have adapted, with more online and Facebook advertising, plus a couple of radio interviews," she said.
On allowing products in the shop she follows her father's philosophy of not allowing more than one type of trader, avoiding direct competition. "It is hard enough to run our living, so why make it harder," she said.
"Dad may have a shop empty but would turn down say, another beautician, as we already have that in the arcade, creating more variety. There are lots of little treasure troves in Sleaford that people overlook at first. This last year has changed the way I shop and trade, or we will lose our whole high street," said Lucy.
She said it has been even tougher for those just trying to open up during the last few months, with two new businesses just getting going in the arcade.
Mark Scott works in the financial sector and moved to Sleaford with his partner two years ago.
He said: "I decided I wanted to fulfil my long term aspiration to open a tea shop. I still work in London Monday to Friday at the moment (although I have been home working lately). I currently only open the tea shop on Saturdays, but at some point will move to fully working in the tea shop, so it is a kind of hobby at the moment that I hope will develop."
Mark said: "I looked up and down the high street and fortunately when I was looking at this unit there was a bistro in the premises that had been closed for a while, so the kitchen was already laid out, enabling me to move in and set up quickly.
"I also liked the arcade as its style fits the theme with its nice green and gold paintwork and that heritage feel, as well as it formerly being a coaching hotel, with the market square opposite and the water fountain nearby. It is nice to have that history around you."
Mark initially started negotiating the lease in February 2020 but then the first lockdown put things on hold. "I eventually signed up in September and spent a month redecorating the interior as it had been set up as an evening bistro," he said.
Finally opening in October, he had to close again just three weeks later for the November lockdown. He re-opened for takeaways in the run-up to Christmas but it did not take off before lockdown number three in January.
Mark said: "I didn't want to encourage people to come out just to buy a coffee, so stayed shut until April 12."
He has been grateful of the Government's and council's support for businesses, while thankful he still had a 'day job'.
He said things are now picking up, serving takeaways as well as having a couple of tables outside for those wanting to stay.
Looking forward to May 17, Mark describes his business as a relaxing, vintage style tearoom with tea, sandwiches and cakes in china cups, pots and stands, with him doing his own baking and everything served fresh.
He feels he has been even more fortunate with the district council's Heart of Sleaford project looking to link up the arcade to the old buttermarket cinema complex and Money's Yard via a pedestrian bridge over the river. He wanted to get established in readiness to capture the further footfall and offer a cuppa and cake.
Mark commented: "I would hate to see the high street die. We have the new housing being built on London Road and I am hoping people don't just jump in their cars and go out of town. I am sure with the increase in new shops coming along we have a wide range of traders in town to encourage people to stay local."
His partner has also opened a new barber's – Burke and Hair in Money's Yard.
Another brand new business has just opened up in Bristol Arcade and the owners are excited to make a big impact.
Rachael Coles and her daughter Jasmine Catlin have recently moved to the town from Brighton.
Rachael said: "We moved here in November. We walked around the town and absolutely fell in love with it, bought the house and decided it would be good to start a business in the town where we live.
"We thought it would be nice to support the town we live in and we have always had the 'shop local' attitude, which is more important than ever.
"We want to keep people interested in shopping locally and not fall back into their old habits.
"We want to get involved with community projects and businesses."
In the past they helped run a big biking event, raising money for charity in Brighton.
Although they looked at other shop units available, they liked the community feel of the arcade and its variety of shops.
Both starting out in an accountancy firm, Jasmine went on to work in a school.
Rachael said when Jasmine got married she felt the experience fell a bit flat. Instead she wanted to open a shop to address that feeling, catering for any size and budget.
Having researched their market thoroughly they insist they offer a very different range of makes and designers to competitors in the town.
Rachael said: "It was exciting opening on April 12. Obviously as a new business it is going to be a risk, but we have had some lovely local customers and our business is starting to grow."
Sticking to covid restrictions, they operate by appointment only, but are already attracting interest from passers-by.
She admitted there had been a few last-minute brides coming in, trying to find an outfit as pandemic restrictions begin to ease on numbers at weddings.
"One lady came in in a panic, so we calmed her down over a drink and she left really happy," Rachael said.
"The first thing we do is offer a glass of bubbly and chat about the wedding plans – it is nice to meet new people and makes our everyday job more enjoyable."