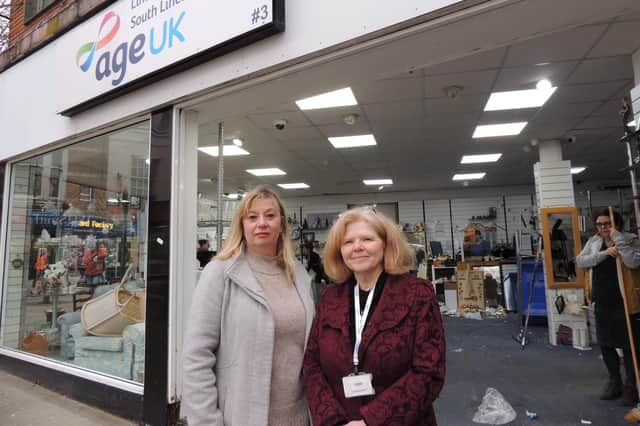 As reported earlier today (Wednesday), Lincolnshire Police responded to the collision at Age UK in Strait Bargate at about 11.05am this morning.
A spokesman for the force said it involved a red Mercedes car and that a person was taken to hospital as a result.
But Lincolnshire World now understands that three people were injured in the collision, including two customers who were among the 20 people believed to have been in the shop at the time.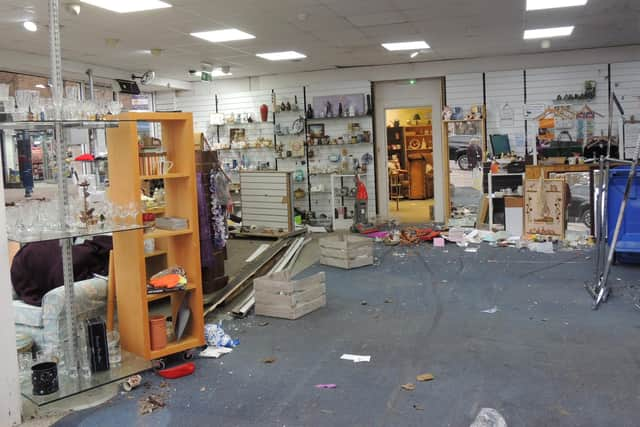 Speaking to Lincolnshire World, Age UK Boston shop manager Lorraine Tompsett said: "It was a normal Wednesday morning on market day, with lots of hustle and bustle.
"Then we heard this incredible crash, followed by a series of crashes of broken glass.
"And then there was the amazing scene of a car in the middle of our shop and we immediately wanted to make sure everyone was safe.
"Three people had to go to hospital, two customers and the driver of the car who was a male.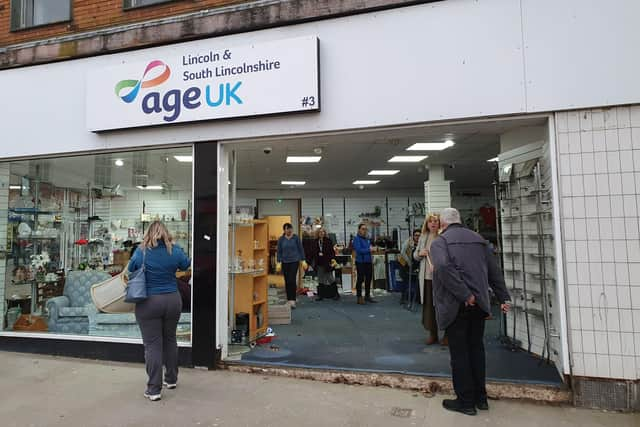 "Everyone was shocked. We were supported incredibly well by the Pescod Square security team who arrived almost instantly as they heard the noise. And the emergency services arrived very quickly, fire, police and ambulance."
Lorraine said there were around 20 customers in the shop at the time of the collision.
"The support we received from everybody has been outstanding," she added. "Anyone who was not involved we got out of the shop quickly."
Shop assistant 'Glen' from Cash Converters in nearby Wide Bargate said: "I heard a bang and then saw the car in the shop. I called 999 and quite a few people were on site instantly including the town security."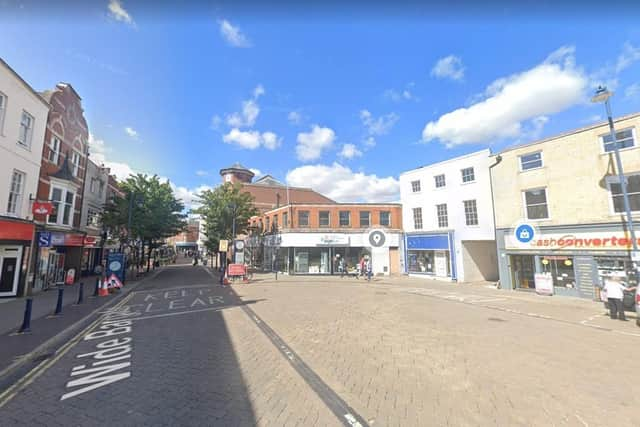 Pescod Square's security team helped to administer first aid on scene to those that were injured, before they were taken to hospital.
Pescod Square manager Lisa Dawson told us: "The team are First Aid trained and gave prompt and efficient help and support to the injured, calling for emergency services for support. Whilst this is outside of Pescod Square Shopping Centre, the team were quick to respond and I know that everyone involved were extremely grateful of their quick thinking and immediate action. We are exceptionally proud of our Team at Pescod Square."
Michele Jolly, chief executive of Age UK Lincoln and South Lincolnshire commented: "We are a local independent charity and we have other departments and we will all be pulling together to get across and help get the place into working order again.
"Not only because of the trading hours lost, but also to get the place back open and offering the support the local community is reliant upon."
Bollards were placed outside some shops in Strait Bargate a few years ago after a woman was killed when a car collided with the Specsavers store there in 2019. None have been erected outside shop units on the opposite side of the street, which include Age UK and Cash Converters.
Glen felt it may be time to look at bollards being installed on his side of the street too, to prevent future incidents.
"This could easily happen to us too," said Glen.