Easter update on roadworks along Roman Bank in Skegness
Lincolnshire County Council has provided an update on roadwords that have disrupted traffic in Skegness for several weeks.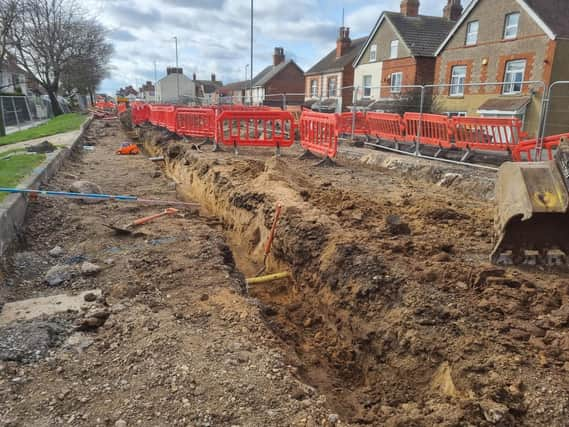 As part of the works that started last month, alternating one-way closures have been in place, starting with the northbound A52 then changing to the southbound.A158 Burgh Road, and vice versa.
The diversion route for these has been be via Lincoln Road / A158 Burgh Road, and vice versa.
LCC have now announced the northbound section of Roman Bank near the A52 gyratory will be open for use.
However, it will be mid-April before he southbound section will re-open, subject to weather and other unforeseen circumstances.
Karen Cassar, Assistant Director – Highways, said: "Completion of our works to this section of Roman Bank has been slightly pushed back following the discovery of an unusually shallow gas main on-site.
"Our utility plans didn't specify this main's depth, but luckily our contractor saw the pipe while excavating the road before any serious damage could occur.
"Keeping the southbound section closed for an additional two weeks will allow our contractor to investigate underground ahead of laying the new road surfacing here, ensuring there aren't any other utilities close to the surface.
"In the meantime, we're working closely with Cadent to find a suitable date for the shallow main to be diverted, ensuring the safe delivery of gas to the area."
A Cadent spokesperson said: "We are working closely with Lincolnshire County Council on the delivery of this project and our goal to maintain a safe and reliable gas supply to Skegness
"Cadent have now left the site so that the underground investigations can continue and are working with the County Council to agree the appropriate timeline for the rest of the project"