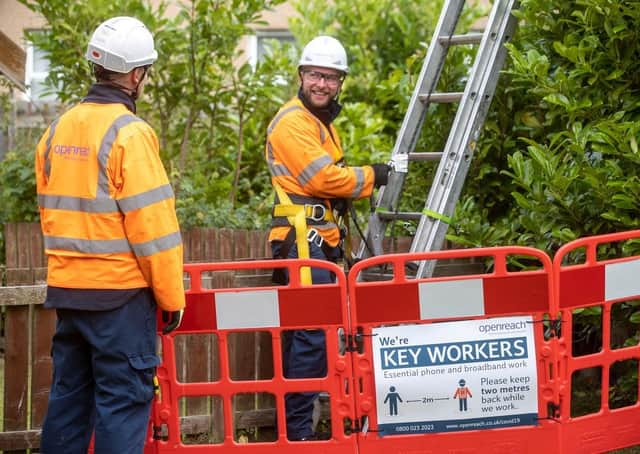 Opernreach is the second telecoms network company said to be installing superfast full-fibre broadband in Sleaford this year. (Stock photo) EMN-210405-154143001
Lightspeed Broadband announced plans last month to begin installing gigabit broadband connections in Sleaford and other towns across the south of the county and into Norfolk, aiming to address overlooked areas in the past.
But this will be on top of existing plans by telecoms company Openreach to upgrade the network.
Openreach manages the nation's phone and broadband infrastructure and says currently working in Sleaford, as well as Gainsborough, Bourne and Stamford to upgrade to faster speeds in line with its announcements last summer.
Opernreach is the second telecoms network company said to be installing superfast full-fibre broadband in Sleaford this year. (Stock photo) EMN-210405-153905001
Openreach engineers have been seen installing cabling around Sleaford opver the last few days and will take in Leasingham, Silk Willoughby, Scredington and Kirkby La Thorpe too, according to the shaded area highlighted on the map on the webpage.
The map shows Openreach's Fibre First plans for towns, cities, boroughs and villages which includes 20 towns and villages in the East Midlands.
The East Midlands locations are part of a wider scheme to make the new technology available to a further 3.2 million premises in the UK's hardest to reach 'final third'. The build is at the forefront of a massive £12 billion investment, which will see Openreach's ambition to build 'Full Fibre' infrastructure to 20 million premises throughout the UK by the mid-to-late 2020s – delivering significant economic, social and environmental benefits for rural and urban communities.
Communications regulator Ofcom welcome the choice on offer to Sleaford residents from the various broadband upgrade, suggesting competition has helped full fibre coverage increase at a faster rate ensuring a choice of networks.
Competitors will be able to compete alongside Openreach's network, which is used by the likes of BT, Sky and TalkTalk. People will have the choice of those providers, as well as any new network built.
The full-fibre network will replace the old copper one.
Kasam Hussain, Openreach's Partnership Director in the East Midlands, said: "We've already upgraded tens of thousands of homes and business across the region to full fibre. As well as keeping the existing network running throughout the Covid crisis, our engineers have safely and with social distancing in place, continued building the new infrastructure to make sure that as lockdown restrictions ease, our network is there to support families, businesses and the economic recovery.
"I'd encourage everyone in Lincolnshire to check if they can switch to the new technology, and if you can, get in touch with your broadband provider to find out more about the many benefits. 'Full fibre' is more reliable and more resilient meaning fewer faults and more predictable, consistent speeds. It is also 'future-proof' to easily meet the growing data demands of future technologies."
The news has been welcomed by business leaders and North Kesteven District Council, who say better broadband could attract new firms and employment to the area.
The conversion is expected to bring more local people back into the workforce through enhanced connectivity. This could include roles within small businesses and entrepreneurs – as well as allowing thousands more people to work remotely, by unlocking smarter ways of working, better public services and greater opportunities for the next-generation of home-grown businesses.
Openreach CEO, Clive Selley, said: "This year we've all seen the importance of having a decent broadband connection and at Openreach, we're convinced that Full Fibre technology can underpin the UK's economic recovery.
"Right now, we're building a new, ultra-reliable full-fibre network that will boost productivity, cut commuting and carbon emissions, and connect our families, public services and businesses for decades to come. It's Ofcom's proposals that give us the right conditions to build commercially in hardest to reach areas.
"We're determined to find inventive engineering solutions and effective partnership funding models to reduce costs and enable us to connect as many communities as possible across the UK without public subsidy.
"Openreach is leading the charge to help Government achieve its target of making gigabit capable networks available nationwide by 2025. And we hope that by publishing our own plans, we can help ensure that taxpayers only fund connections in communities that really need public support."