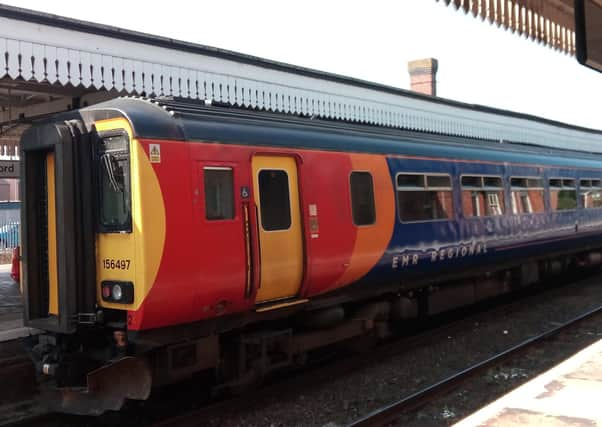 The new timetable has been designed to safely reduce the number of staff required to deliver its services by around 10 per cent - while also protecting services which are the most popular and well used across the network. This includes those relied upon by students and those travelling to and from work.
EMR says it is taking this proactive approach to ensure it can continue to reliably and safely provide the advertised timetable. As a result, there will be changes to 37 regional services across the network. EMR will continue to operate over 90 per cent of its normal, or pre-Covid timetable.
Amended timetables are now available online and customers should check their journey before setting off.
Will Rogers, Managing Director of East Midlands Railway, said: "In recent weeks and in line with the rest of the country, we have seen a significant increase in the number of our staff who have been affected by Covid.
"With this in mind, we have taken the proactive step to make changes to our timetable to protect our most popular services, including those that are relied upon by key workers or those who use our services to travel to work, school or college. This will help to protect against unplanned and short notice cancellations which we know are extremely frustrating for customers.
"These changes will remain under review, but in the meantime, passengers are urged to check their journey before they set off and also use our Seat Finder Tool which can be found our website."
Local services affected are listed below.
- 1040 Peterborough - Lincoln
- 1210 Lincoln - Peterborough
- 1341 Peterborough - Lincoln
- 1512 Lincoln - Sleaford
- 1530 Leicester – Sleaford (Starts Nottingham)
- 1345 Nottingham - Skegness
- 1611 Skegness – Nottingham
- 1206 Newark North Gate – Grimsby (Terminates Lincoln)
- 1352 Grimsby - Newark North Gate
Meanwhile, travellers are being warned that no trains to or from London King's Cross will be running on one weekend in November and during a six-day closure at Christmas as Network Rail makes progress on its £1.2billion East Coast Upgrade.
The project will make way for more services on the East Coast Main Line to meet future passenger demand and bring a more modern, reliable railway.
Major progress has been made in and around King's Cross, including work towards the re-opening of a disused railway tunnel which will allow more trains to enter and exit the station, as well as improvements to the track and signalling.
On Saturday and Sunday November 21-22, engineers will install overhead line equipment and make further improvements to the signalling system. This work can only be done safely when there are no trains in the area.
The following changes to services will be in place over the weekend:
LNER services to/from the north will start/end at Peterborough. Rail replacement coaches will run between Peterborough and Bedford, where passengers can use Thameslink or East Midlands Railway services to/from London St Pancras.
No Grand Central services will run between Bradford/York and London King's Cross on November 21 and 22.
Hull Trains is operating an amended service to/from London St Pancras both days.
In addition, there will also be a reduced service running on the East Coast Main Line over this weekend, and two additional weekends in November, as work takes place to improve and replace sections of track. On Saturday November 21 and Sunday November 22, as well as on November 14, 15, 28 and 29, trains between Doncaster and Peterborough will be diverted via Lincoln, which will extend journey times.
Passengers who still need to travel to London over these weekends are strongly advised to check their journey via National Rail Enquiries, at EastCoastUpgrade.co.uk or with their train operator and allow plenty of time.
Ed Akers, Principal Programme Sponsor for Network Rail, said: "This work which is taking place over weekends in November is a vital part of the East Coast Upgrade. The project will bring a more modern, reliable railway for passengers.
"We are making as much progress as possible without disrupting services, but work on the overhead line equipment and improvements to the signalling system can only be carried out safely when there are no trains in the area.
"We thank passengers for their continued patience and strongly advise those who need to travel to or from London to check their journey and allow plenty of time."
Further work is planned over the coming months and the dates of full and partial closures at King's Cross have been announced up to June 2021. This includes an extended six-day closure between Christmas and the New Year. No services will be running to or from London King's Cross from Friday December 25 until Wednesday December 30. There will also be a reduced service on Thursday December 24, and between Thursday January 31 and Sunday January 3, 2021.
There will also be limited services on the East Coast Main Line between Grantham and Peterborough during a nine-day period in January. Between Saturday January 16 and Sunday January 24, major work is taking place at Werrington, north of Peterborough, on a project to build a dive-under. This new section of railway will mean slower freight services can go underneath the East Coast Main Line, making space for additional passenger services to help meet demand.
Passengers can find out more so they can plan their journeys in advance at eastcoastupgrade.co.uk