Find your Freedom this summer with the special £2 deal from Brylaine across Lincolnshire
'Find your freedom' using our Brylaine Bus App, website and the £2 single fare, according to Marrianne Garbutt, Managing Director from Brylaine.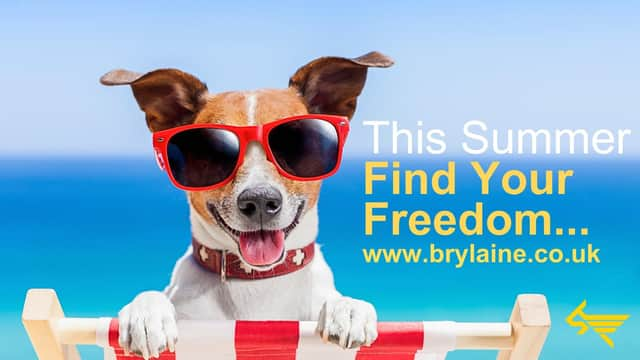 This summer will be for those looking for a way through the school holidays without the faff!
The 'Find Your Freedom' campaign forms part of our local ambition to enable more people to use the bus this summer. At Brylaine we have a long-term aim to reframe your local bus services as an attractive and fun way to get around with multiple benefits; taking the bus is cheaper, faster and more sustainable for families.
Using the bus can open doors and create freedom for parents, grandparents and kids alike during the summer months. Whether you are thinking of going to the park with friends for football or skating, heading to the beach with family and friends or simply grabbing an ice cream on a hot day, we hope this summer will bring joy to their faces and inspire many to choose the bus as their go-to mode of transport this summer.
The £2 fare cap continues to enable passengers to pay a maximum of £2 for any end to end single trip length. So yes, you can get on in Boston and travel all the way to Lincoln for just £2.
The timetables will operate from 24th July to the 5th September 2023, giving local residents and holiday-makers direct access to Spalding, Lincoln, Skegness and Spilsby along with all the places in-between.
On the B5 you can head to Woodhall Spa for the walks, Kinema or Jubilee Park or the Battle of Britain Flight in Coningsby, what about Tattershall Lakes ? The B7 will take you all the way to Skegness for funfairs and the beach or maybe even Batemans Brewery in Wainfleet (for the grown-ups because they don't have to drive.) What about visiting the Aquarium or Natureland Seal Sanctuary, all you need to do is take the B7 0910 or even 1010 from Boston and come back on the1430 or 1645 for a day out.
If it's shopping you want, Boston has Pescod Square and Sleaford Road Retail Park (B9 from Boston). You could catch the B5 to Lincoln or closer still, you can head to Spalding on either our B3 or B9 services. From Spalding Bus Station, you catch the Town Service bus or Stagecoach 505 up to Springfields every 10-30 mins. Like gardening? Springfields (B3/B9) Dobbies (B7) and Birchgrove Garden Centre (B3 & B9) are just a short trip away.
This summer we are also partnering with Endeavour FM to give-away TEN family tickets a week to any location on our bus network between *July the 24th - 5th September 2023. This will give each group comprising of 2 adults + 3 children a free day return (Monday - Friday) on any of our services
Don't forget, we accept Lincolnshire Concessionary Passes and your four legged dog friends can travel too. (All fares from dog tickets go directly to the Greyhound Rescue Charity - Lincolnshire)
Download the "BRYLAINE' APP from GooglePlay or The App Store.
Full timetables to include services which operate school days only can be found on our website or on the APP.