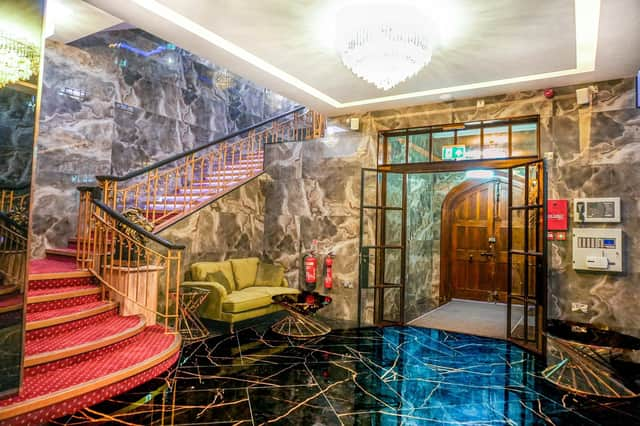 Gallery: Entrepreneur reveals jaw-dropping interior of new £2million hotel in Boston
A historic former local authority building reopened at the weekend as a luxury hotel – following a £2million investment by a Boston entrepreneur.
Published 11th Sep 2023, 11:43 BST
Updated 11th Sep 2023, 11:54 BST
The photos of the rooms interiors, many of which feature neon lighting and striking shower walls, have garnered a lot of praise from locals.
Alistair Arundell, who owns Smartmove Hotels in Boston, purchased the former County Hall Business Centre in August 2021. Work later began on a significant restoration and conversion project to transform it into a luxury 30-bedroom hotel in his own name – The Arundell Hotel.
One luxury room is the Church View Suite, which, along with a view of the Stump, offers a 88" TV, bed end bath tub, Super King Size memory foam bed and sofa.
Mr Arundell, who also owns The Quayside Hotel, The Stanley Hotel and No. Twenty Hotel in Boston said: "When the opportunity arose to purchase this significant building, I jumped at the chance.
"It always been my dream to utilise the building and I'm now so lucky to have been able to expertly convert it into the stunning hotel that it is now."
The restoration of the building also incorporated a new entrance for the Boston Library, on the ground floor, and renovation of the exterior entrance within the Old Court House car park.
Mr Arundell continued: "My thanks goes to the hard-working and talented individuals and my friends and family who have helped to build this fantastic property, a first for our lovely little town, and maybe even for the entirety of Lincolnshire."
The interior, styled by Nathan Holford and Svetlana Keptenare, allows each room to offer unique experiences, with a number of bathrooms having custom shower walls made by Boston based printers, Reco Surfaces.
The property has a breakfast lounge, reception area, state-of-the-art eco heating system, 24/7 security surveillance and much more and has created multiple jobs including reception, house-keeping, maintenance, security and many more.
Commenting on Mr Arundell's Facebook post about the hotel, his followers were unanimously in favour of the finished look, with compliments calling the hotel 'lush, 'modern and stylish' and 'classy'.
• The Arundell Hotel can be booked on all major travel sites including booking.com, Air B'n'B, Google Rooms along with the groups own website, smartmovehotels.co.uk and through the hotel's own website, arundellhotel.co.uk.