Greece is the word as the countdown begins to a new era of holidays abroad
Let's talk about holidays abroad. Remember those? Join me in a distant dream of sun-soaked shores, icing sugar sands and shimmering seas bluer than the unblemished sky.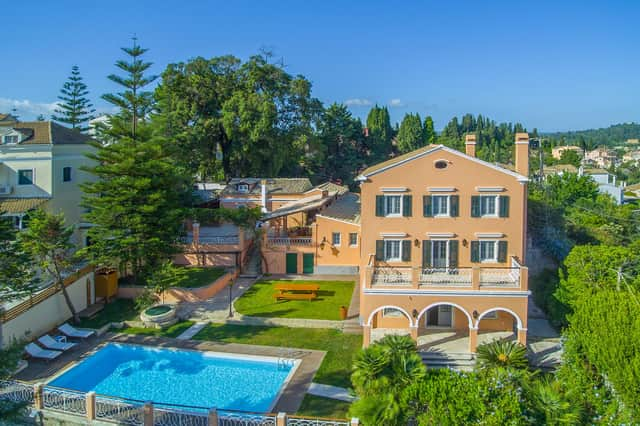 We're not trapped indoors. We're definitely not homeschooling. We're lying on sunbeds at the water's edge, marvelling at the vibrant greenery enveloping our secluded bay, wondering whether to settle in awe or snorkel in paradise.
We're on Barbati Beach, Corfu. It could easily be the Maldives. The mellow music drifting from the beach bar is the epitome of tranquillity. Cocktail? Yes please. And if it gets too hot we can always slip on a sarong and indulge in some seafood in the shade. Recollections like these keep me upbeat. Memories of bygone holidays so perfect you can still feel the residual magic when you close your eyes.
Remembering our stay at Duchess Alexandra Villa – a trip we feel fortunate to have experienced in October before holidays became taboo – provides uplifting family chatter on these bleak days and dark nights. Foreign holidays may seem a long way off, but all that could soon be changing with the hope that abroad travel will resume from May 17. And with Greece hoping to welcome guests whether they've been vaccinated or not, an abundance of adventures may await.
DUCHESS ALEXANDRA VILLAHaving enjoyed the holiday of a lifetime with luxury villa specialists Oliver's Travels in Kassiopi in the north of Corfu two years earlier, we couldn't wait to visit the east coast this time – near popular Corfu Town – and stay in a villa that looked simply exquisite. We were greeted at the gates of Duchess Alexandra by friendly owner Dimitris, who welcomed my husband, two teenage children and I with freshly squeezed orange juice and Greek cheese pie, made by the villa's own chef, before giving us a guided tour of his glorious 19th Century mansion.
Able to accommodate up to 16 guests, the villa is set over three storeys and boasts a traditional well-equipped kitchen, five bedrooms and six bathrooms, including a separate annex. Fully refurbished in 2018 to retain a host of original features, including a majestic wooden staircase which spirals the floors, flooding the property with timeless ambiance, the villa combines modern comforts with alluring bygone Greece. The communal living areas are almost palatial whilst the bright, airy bedrooms and elaborate bathrooms radiate luxury and contemporary romance.
Set on the second and third floors, each beautiful bedroom has its own unique identity – Lemon Orchard, Ionian Seas, Summer Meadow, Corfu Dawn and Corfu Dusk. Our room, Ionian Seas, delighted with its idyllic ocean backdrop and traditional marble fireplace for the ultimate wow factor.
Fresh air enthusiasts, we adored the pretty courtyard, a superb sociable outdoor space with a huge covered oak dining table showcasing idyllic ocean views. The perfect setting for al fresco dining, we enjoyed daily breakfast here and magnificent evening meals under the stars, all cooked by the villa's private chef in a professional kitchen close by. Offering unrivalled views of the picturesque Corfu coastline, the heated outdoor saltwater pool – surrounded by lawn with sea-facing sunbeds – inspired hours of relaxation, splashing around on inflatables with the kids, drinking in the dreamy backdrop.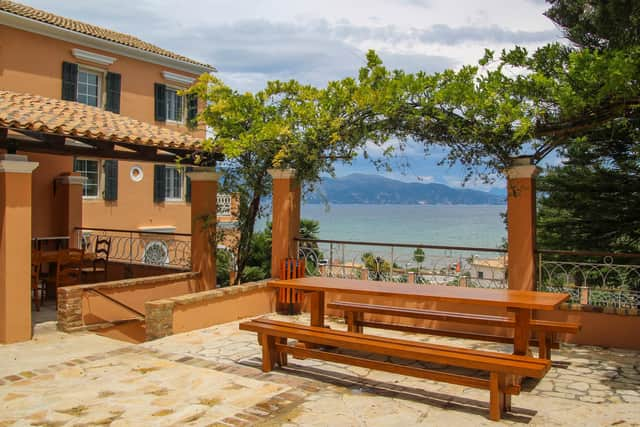 Evenings were spent enjoying freshly prepared meals in the villa – the chef simply asked in advance what we'd like before creating it with a dash of magic – or exploring the vibrant bars, shops and restaurants of nearby Corfu Town.
The pick of an eclectic bunch was Limoncello, an enchanting bar and restaurant offering kumquat liquor aperitifs, traditional cuisine and the laid back, mellow aura the island is renowned for.
PARADISE FOUNDWith the villa's amiable professional driver Akis available to enable guests to explore the island, our explorations were enjoyable and stress free, plus he shared with us his secret bay, Barbati Beach; a picture-perfect cobbled cove resembling a dreamy Caribbean postcard. Flanked by lush, Norwegian Fjord-style landscape and just off the beaten track, locals call it the 'Bay of Diamonds' in testament to its crystal clear blue-green waters and the way the sun's rays dance off them. We called it paradise, and visited every day.
Quiet, unspoilt and naturally breathtaking, we enjoyed water sports, snorkelling and lunches in the Verde Blu beach restaurant, with wall-to-wall sunshine and calypso tunes stirring a carefree contentment impossible to achieve in the current home climate.
We all need something to look forward to right now, and planning your next trip can be as exciting as the holiday itself – especially with right help.Experts in the exquisite, whether it's a fun-fuelled family adventure, a romantic retreat or a quirky friends' getaway, you can rely on luxury villa specialists Oliver's Travels for outstanding hand-picked accommodation with an air of the sublime.Choosing from only the top two per cent of properties, ensuring an elite pick every time, be it home or abroad, castle, cottage, chateau or villa, Oliver's Travels simply don't do ordinary – which means neither do you.
From professional concierge service, chef option, food delivery and fridge stocking to maid service, childcare, spa treatments and restaurant reservations, you can expect the exceptional every step of the way. Car and boat hire, flights, transfers and much more can also be arranged for a truly unique, hassle-free holiday experience. For more information or to book, please visit www.oliverstravels.com
Should coronavirus-related travel restrictions mean your villa holiday cannot go ahead, you can request a change of dates. Terms and conditions apply.
To get 10% off your stay at Duchess Alexandra Villa use the code DUCHESS10 when booking. The code applies to new bookings made before April 28 for any dates in 2021. The code cannot be used in conjunction with any other discounts.