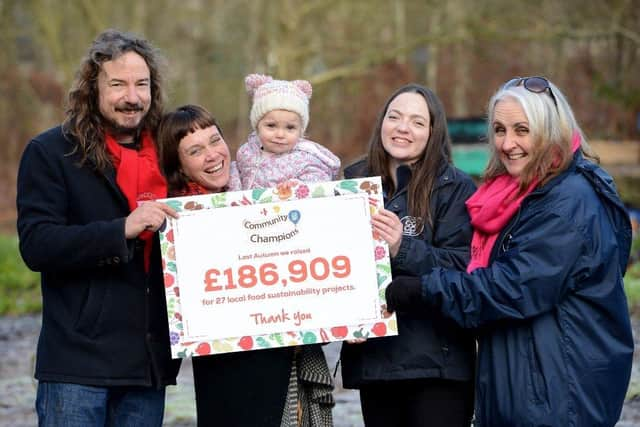 Kids clubs, cooking classes, and communal spaces for learning about reducing waste and healthy eating are just a few of the 27 projects in the local area benefiting from the money raised by dividend card holders, colleagues, and customers during September through to November.
Wragby ChEF (children eat free), which provides free meals for children in the school holidays as well as providing a Meals on Wheels service, was one of those benefiting from the Co-op's scheme and received £10,141 while Holton Le Clay Infant School received £1,579.
Old Wood Organic, which offers access to fresh, locally sourced, healthy organic food as well as a safe, healthy, natural space for learning, meditation, relaxation, and exercise for people with neurodiversity, also received £10,580.
Danielle Budworth, senior community co-ordinator at Lincolnshire Co-op said: "Thank you to all our members, colleagues, and anyone who's chosen to drop their change in a collection box or support any of our fundraising activities.
"It's amazing to see the community come together to support such a worthy cause, that has so many components to it – healthy eating, caring for mental health and looking after our environment."
The Co-op is also calling for new member representatives in Horncastle to have a say in the running of the group and its food stores, funeral homes, legal services business and insurance arm. 
Members' council leaders are especially interested in applications from members from ethnic minorities, candidates with disabilities and those from the LGBTQ+ community.
The 100 people that make up the council come from all walks of life and include ordinary members (people who trade with Co-op's businesses), colleague members and members from independent co-operative societies, and serve a term between one and three years. 
To qualify to stand for election as a council representative, members need to have joined before January 2019 and have earned 500 membership points (the equivalent of spending around £10 a week on groceries in Co-op Food stores) between 3 January 2021 and 1 January 2022.
Candidates can find information at www.co-operative.coop/councilelection and can apply until February 25.