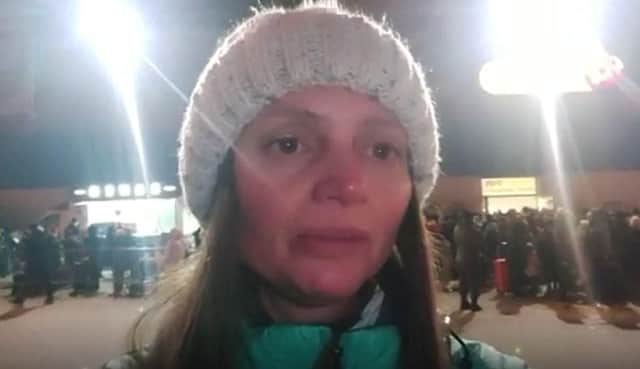 People have been leaving in a bid to escape Russian forces, who entered the country on February 24 and forced several communities to flee their homes.
Many families have sought refuge in neighbouring countries, such as Poland and Slovakia – but many are struggling to find somewhere to stay.
PC Gosia Golata, who worked in Louth before taking a career break and returning to Poland in 2020, has been working tirelessly to give families a place to call their own since the conflict began.
She has been making regular 16-hour roundtrips to the border with her husband Jakub to pick up refugees, before finding them accommodation.
Gosia has also helped to raise money to put up families in a nearby hotel – The Park Hotel Tryszczyn near Bydgoszcz - and has already helped more than 150 people.
"I joined the police to make a difference and that's what I want to do – we are helping real people and having an impact every day," she said.
"In Poland we are next-door, and we see what is happening every day. The situation is truly dramatic.
"Thousands and thousands of people are coming, and we just knew we had to help somehow."
Gosia says visiting the border has been incredibly difficult – and says the true scale of the crisis is difficult to show on television.
"In England, you don't see everything, there's too much to show," she said.
"My husband and I have been going to the border and the real situation, it's a heart-breaking sight and every day it is so different, it is constantly changing.
"We have waited for some people to transport back, and they've ended up getting stuck, hold up in a bunker and unable to reach us.
"And those who do arrive do not know what to do or where to go. Everyone is trying their best.
"People also don't want to travel too far because they want to go home – they don't want to travel to England, not because they don't like England, but they don't want to leave their lives behind."
To begin with, Gosia and her husband would pick up refugees in their mini-bus and then reach out to people on social media during the long trip back, asking if anyone could take them in.
And while people selflessly offered up their homes, Gosia and Jakub wanted to do more.
So, they began by putting their own funds into the relief effort – helping to get a nearby 180-bed hotel, which had closed due to the pandemic, back up and running.
Families could stay in these rooms while a suitable home was found for them in Poland.
Gosia and Jakub have launched a GoFundMe website to help combat the humanitarian crisis and have, at the time of writing, raised more than £105,000.
Gosia has been blown away by the support and is hoping they can get some help from the local government: "We've been contacted by the local council who says we've done a great job and we're hoping to get more help.
"We're all trying our best but it's a slow process.
"These people have nowhere to go - they're stuck with no plan, no money and no language. We've already been doing it for several weeks and will continue to do so."
Gosia will continue to work with refugees in the coming weeks but has stressed just how important it is to help if possible.
"It is a matter of life and death," she said.
"There are tiny babies with nowhere to sleep, there are not enough toilets for everyone and it is a struggle.
"I'm putting out updates on the GoFundMe page and you can see that the money I'm raising is helping real people and giving them support in a real way.
"We want to give people a roof over their head.
"People across the world and in England are doing an incredible job offering their homes – and many people who are taking refugees in get something back to, just in terms of living with someone from a different culture.
"Please continue to help if you can."
If you want to help support refugees from Ukraine, click here.
Gosia and Jakub have teamed up with Sue Ryder Foundation and will see that every penny is spent directly on the refugees.