HIV testing rate in North Lincolnshire remains below pre-pandemic levels
The proportion of people in North Lincolnshire tested for HIV last year was below pre-pandemic levels, new figures show.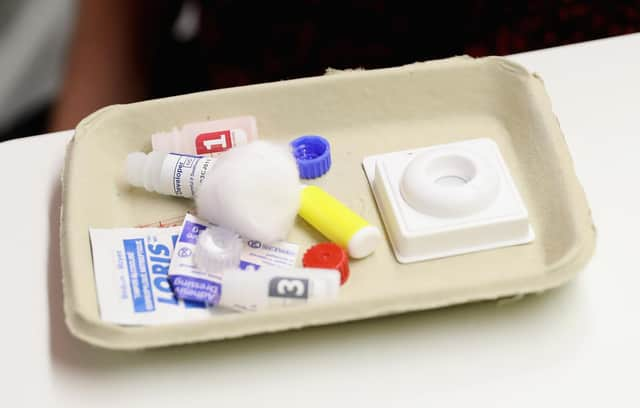 The proportion of people in North Lincolnshire tested for HIV last year was below pre-pandemic levels, new figures show.
The Terrence Higgins Trust, which campaigns to support people living with HIV, said testing must be ramped up and made more accessible to meet the Government's target of eliminating HIV transmission by 2030.
UK Health Security Agency figures show 1,790 people were tested for HIV when attending specialist sexual health services North Lincolnshire last year – accounting for 36% of eligible attendees.
It is up from 33% in 2021, but below the 46% coverage seen before the pandemic in 2019.
Overall, 48% of those eligible across England were tested for HIV in specialist sexual health services last year. It is up from 45% the year before, but well below the 65% tested in 2019.
Richard Angell, chief executive of the Terrence Higgins Trust, said the data shows "demonstrable" progress towards ending new HIV cases in the country by 2023, but added more must be done.
He said: "Ramping up HIV testing across the board is the bedrock of ending new HIV cases by 2030 and it's vital every single one of the next six years is maximised.
"The option to order an HIV test online to do at home is helping to increase testing rates, but this shouldn't be at the expense of building back face-to-face testing. We need more heterosexual men, more heterosexual women and more people of colour to be accessing HIV testing and prevention."
He added: "We have all of the tools we need to end new HIV cases by 2030 and diagnose those out there who are unaware they're living with HIV. But with just six years left to achieve that goal, it's worrying that the pace of change is much too slow."
The figures also showed the number of HIV diagnoses in England rose by 22% from 3,118 in 2021 to 3,805 in 2022. Most of this increase is attributable to people previously diagnosed abroad.
In North Lincolnshire, five people were diagnosed with HIV last year.
Mr Angell added the use of PrEP – a drug taken either daily or before and after sex that can block HIV if it gets into the body – has been growing but remains "under-utilised".
He said: "Our recent research found that the average waiting time for a PrEP appointment at a sexual health clinic was a whopping 12 weeks. It is time to make PrEP more accessible – it should be available through a year round online service and in community pharmacies and GPs."
Of the 71 people in North Lincolnshire identified as having a need for the medication, just 35 were taking it last year.
Dr Alison Brown, interim head of HIV Surveillance at the UKHSA said: "In 2022 we saw further improvements in HIV testing and PrEP access, but progress has been uneven.
"The continued lower rates of HIV testing and PrEP among women and ethnic minority groups is concerning."
She added an HIV test is free and provides access to PrEP if needed.
"If you do test positive, treatment is so effective that you can expect to live a long healthy life and you won't pass HIV on to partners.