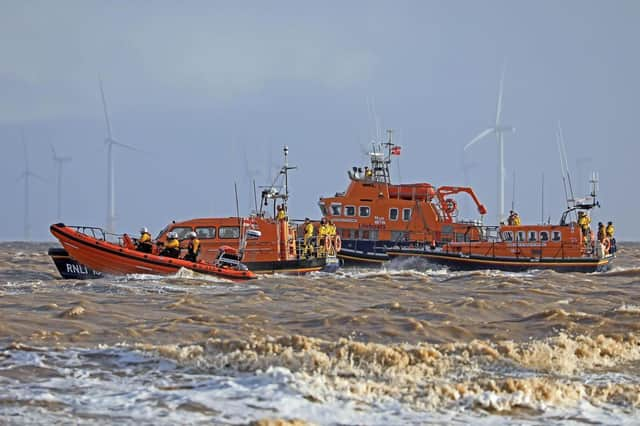 Richard 'Watty' Watson died tragically in a road traffic accident on October 1, 2020. He had served more than 32 years with the RNLI, saving hundreds of lives, before he retired in 2019.
His great humour, knowledge and dedication was recognised last Sunday when crews
and lifeboats from Lincolnshire, East Riding of Yorkshire and Norfolk made the journey to
Skegness for his last launch and to pay their respects in solidarity with his family and Skegness volunteer crew.
During his time volunteering for the RNLI in Skegness, Watty had a great impact on all of
those who served with him.
This was particularly during his time as Senior Helmsman of the stations Inshore lifeboat and then later, Coxswain of the charities Mersey and Shannon class all-weather lifeboats.
Dean (Deano) Sumner served with Richard for 22 years as a volunteer. He remembers when he
first made the trip to the lifeboat station to enquire about joining as a volunteer. and recalls: "I remember clearly when I first walked into the boathouse in 1999.
I had a quick look round and was asked to come back next week, it was then that I met Watty." When Dean joined the RNLI at Skegness, Watty was the station's inshore lifeboat senior Helmsman, responsible for the organisation, training and leadership of the vessel.
"Watty was a great guy, and really welcomed me. As senior helm, he had so much time for me and showed me how to helm the boat.
"Much later on he would give me so much vital advice and helped train me up to be a helmsman myself.
"Watty's seamanship was outstanding. We always felt in safe hands. He was able to change between roles with great ease, always showing his skill at what he loved doing.
It wasn't all work. Watty was a great host and loved to socialise and take part in many
Dean said: "He was a great party host, he could always be heard at gatherings with the most infectious laugh, telling jokes or sharing memories."
Reflecting on the ceremony, Dean said: "When we scattered his ashes I felt such sorrow at the loss of a great friend, who I served with for so long, he will always be sadly missed and
Current volunteer Senior Helmsman Lee St Quinton joined the crew at Skegness in 2006. He
has clear memories of the lasting impact of his friendship with Watty.
"There have been many influential figures in my time with the RNLI in Skegness," he commented.
"However, nobody will ever match the time that was invested in me by Watty, from basic skills in ropework trough to detailed, complex lessons in navigation.
"I learnt every detail from him. He was an expert seafarer and lifeboatman, as well as a true friend, mentor and coach."
Lee, along with two other senior helmsmen, Craig Hopkins and Matthew Jackson, played a
vital part in Richard's final journey during the ceremony to scatter his ashes.
Lee said: "I was humbled to be able to command the inshore lifeboat and carry Watty on his last launch.
"It was our own unique way of saying 'thank you' as a crew.
"We refer to those who serve with us in the RNLI as a family - a family of local people with one objective, to help others without judgement.
"Watty was the head of our family, instilling this ethos and these values in everyone that came through the door. I will always miss him but remember him fondly as the best possible coach, a mentor and friend."
Onlookers watched the ceremony from Skegness beach near the RNLI lifeboat station.
The RNLI shared some pictures of the day on social media, saying: "We gathered together to commit the ashes of our dear friend and Coxswain Richard 'Watty' Watson to the sea, just off central beach.
"A fitting final resting place to lay a guardian of the sea surrounded by his crew and from a boat he dedicated so much of his life to.
"Our continued love and support go to his beloved wife, Sandra, who will always be a part of our family.
"We thank our close friends and colleagues from our flank stations of Humber, Mablethorpe, Hunstanton and Wells for their show of support."
Sandra Watson commented: "It was lovely to see that so many people came to watch the boats launch.
"I am deeply grateful to Skegness RNLI, particularly Craig Willard, who arranged for lifeboats from Humber, Mablethorpe, Hunstanton and Wells to attend.
"I think Watty would have been amazed and honoured by this.
"Ray Chapman came home from Spain and he agreed to scatter the ashes for me - he and Watty were "brothers in arms" on the lifeboats and Ray always said he could not have done the Coxswain's role without Watty's support as 2nd Coxswain. "
An appeal for £50,000 for Skegness Lifeboat Station which would be a lasting legacy to Watty was launched earlier this year.
So far it has raised £30,000. It has not yet been finally decided on exactly what the funds will be used for. However, the boathouse needs to have work done on it in the future and any decisions on how to use the funds will be made then.