Beyoncé and Fleetwood Mac's former chef teaches carers to cook
A professional chef to the stars has started a training kitchen for a dynamic specialist care provider in Lincolnshire.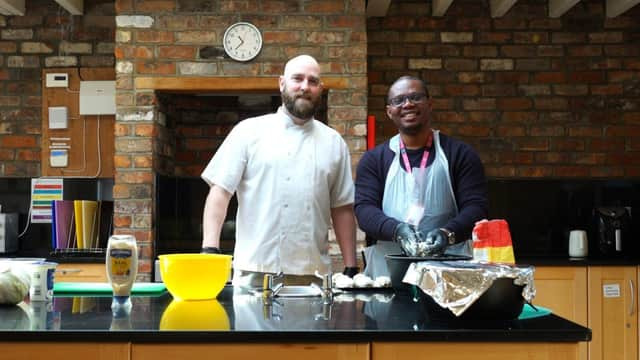 Chef Darren Hampton has cooked for the likes of Beyoncé, Fleetwood Mac, a Formula One team and Olympians in a career that has seen him travel around the world.
Now, he's teaching colleagues at a Lincolnshire care provider how to cook delicious, nutritious meals for the individuals they support. Earlier this year, he won the award for Care Home Cook/Chef at the Lincolnshire Care Awards 2023.
Darren Hampton, a chef at Home From Home Care, said: "I've been a chef for years, working all around the world. I've catered for a Formula One team and done large scale events like the Cheltenham Festival, Olympic Games and football World Cups. The biggest event I ever did was catering 28,000 meals a day for the Indoor Asian Games in Turkmenistan.
"I have also worked with music artists cooking for them when they went on tour. I worked with big name acts including Fleetwood Mac, Beyoncé, Chase and Status and Santana.
"I was travelling around all the time and was away working for 10 months per year. Now that I've had a child I decided I wanted a job closer to home that didn't involve travelling and would allow me to give something back. That's why I decided to join Home From Home Care so I can pass on that experience and knowledge to other people and really make a difference."
Home From Home Care runs 11 care homes and specialist integration services for adults with learning disabilities, autism and other complex needs in Greater Lincolnshire, including Ruskington, Dorrington and Bardney.
Rated Platinum by Investors in People, the organisation invests heavily in the training and career development of its team of around 500 people but it identified a need to improve cookery skills among its workforce. Darren was recruited to help Home From Home Care improve the quality of food on offer in its homes, and provide colleagues with recipes and skills that they use in their home lives.
Sam Morris, Learning and Development Manager at Home From Home Care, said: "Within the business we don't hire chefs or professional cooks for the individuals we support because, just like a home, whoever is there mucks in and cooks the dinner. The pool of confident cooks was getting smaller though, so we decided that we needed to enhance those skills."
As part of chef Darren's role, he spends time in each of Home From Home Care's 11 locations supporting with food ordering, menu ideas, writing menu plans and trying to improve the food that is being prepared and eaten in the homes. To utilise Darren's skills even further, a series of cooking workshops has now been organised.
The workshops are open to colleagues across Home From Home Care who can choose to attend on a voluntary basis. Sam said: "The first session aimed to teach people to cook something quite simple, but then give them the option to make it a bit more complex. We made a bolognese as the base and then showed them how to split it off and make it into a chilli, and then used some of that chilli to make a burrito. So within an hour's cooking they got three dishes out of one essentially. The feedback after the session was fantastic.
"Going forward, we are sending questionnaires out to colleagues across Home From Home Care to see what they would like to learn, and tailoring future workshops accordingly. They will be a really prominent feature of our upskilling offering going forward.
"The scheme links to colleague wellbeing as it teaches them to eat well for less. We've got some written menu books to give out as well, which gives them some ideas to move forward with. It's free for them to attend and, on top of that, we pay them for being here. So it's a win-win for them. It also helps to bring colleagues together to create social relationships while learning skills."
Sam said: "For Home From Home Care, the benefit is twofold. The homes will benefit because we're upskilling our colleagues and giving them the confidence to make meals for the individuals that we are supporting, but they're also going to be able to go home and cook for their loved ones with the skills they acquire."