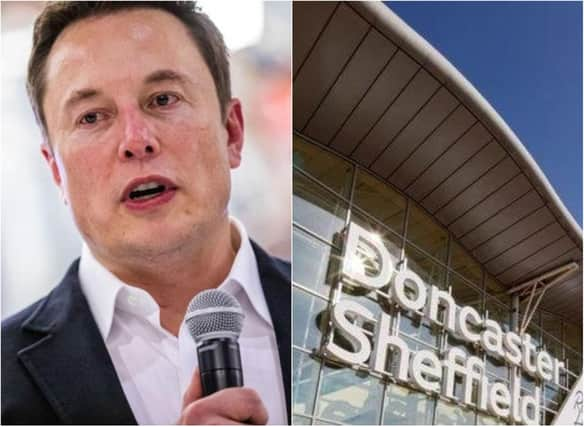 The SpaceX and Tesla boss is understood to have landed at Doncaster Sheffield Airport in his private jet en route to a string of business meetings in Germany.
A Twitter account tracks the movements of the mogul's private plane – and according to a tweet, Musk's Gulfstream Aerospace jet touched down in Doncaster on August 30 after a nine hour flight from Los Angeles.
The plane is then understood to have taken off from Doncaster the following day en route to Europe.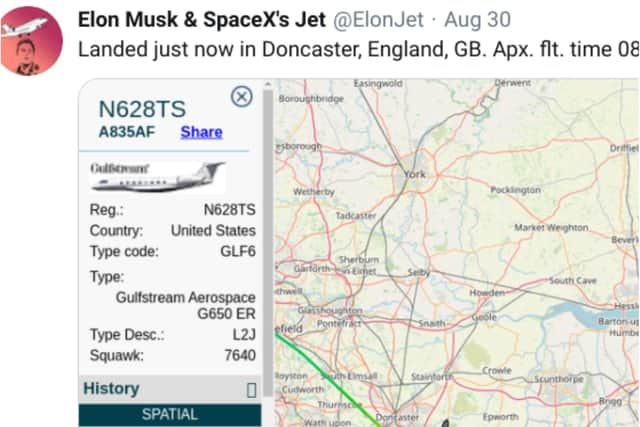 The account makes it clear that Musk is not always on the jet – but the plane then flew onto Germany where one of the world's richest men had a series of meetings last week.
Doncaster Don Valley MP Nick Fletcher was among those welcoming Musk to town, writing on Twitter: "Great to hear of @elonmusk flying into @DSA_Airport maybe next time we can arrange a meeting with @elonmusk and his team to discuss a new @Gigafactory in Don Valley.
"As the local MP and @Tesla owner I would be super excited in electrifying our local economy. #doncasterisgreat."
It is not known if Musk left the airport during his stopover in Doncaster or how long he spent in the town.
The 49-year-old businessman is the founder and boss of space travel and space exploration company SpaceX and also behind electric vehicle manufacturer Tesla.
In 2018, he was ranked 25th on the Forbes list of The World's Most Powerful People and earlier this month, his net worth was estimated by Forbes to be US$93.3 billion, making him the 5th richest person in the world.
Despite his business successes, he has also been the subject of criticism due to his unorthodox stances and highly publicised scandals.
Musk made no mention of his visit to Doncaster on Twitter but confirmed his visit to Germany, writing: "Great trip to Germany. Support from government & people is super appreciated!"