Bingo brings in £3k-plus for charities and other Neighbourhood News
More than £3,000 has been donated to good causes in the area as proceeds from bingo sessions in Croft over the last two years.
Sums of £1,000 have been presented to the Skegness RNLI (Royal National Lifeboat Institution), Lincs & Notts Air Ambulance, and Macmillan Cancer Support.
Croft Bingo will re-start next year at Croft Village Hall on Friday, March 20, at 7.30pm, meeting alternate Fridays until December.
Pictured above is Mairi Perry from the RNLI receiving the cheque from caller Colin Moore.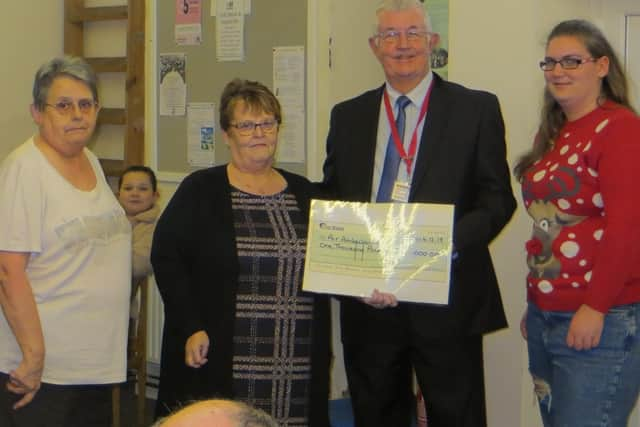 A Eucharist will be held in Bratoft on Christmas Day at 11.15am.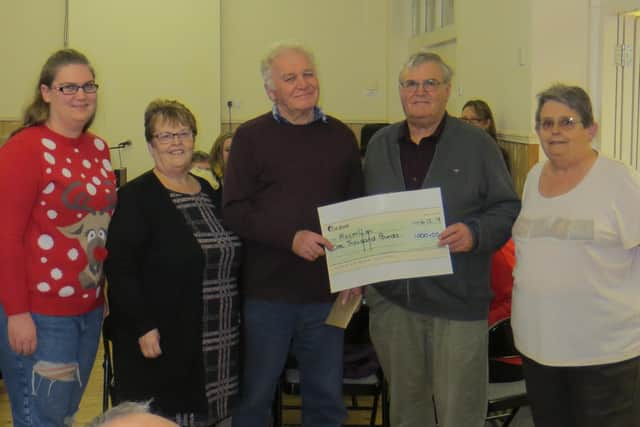 Burgh Baptist Community Church is set to hold a number of carolling events:
- Parish Nursing with carols and mince pies will be held on Friday, December 20, from 10am to 12pm. It will eature traditional carols and items from the Burgh Baptist Community Church Choir and Drama Group.
- Carols in the High Street will take place on Saturday, December 21, at 11am.
- Carols – traditional and modern – will be sung on Sunday, December 22, at 10.30am. There will be a Sunday Club and Crèche for children.
- Carols by candlelight will be held on Christmas Eve at 6pm. As well as carols, it will feature readings and contributions from the choir and drama group.
On Christmas Day, the church will hold a short celebration of the birth of Jesus at 10.30am.
Enquiries to Colin on 01754 811260.
Burgh Parish Church held its Christmas Tree service on Sunday to a full house.
The festival continues over the festive period, with the church open daily from 9am to 5pm.
The church's carol service will be held on Sunday, December 22, at 4pm.
On Christmas Eve, it will hold a Crib Service at 4pm; then, at 11.45pm, there will be a procession, the blessing of the Crib, Midnight Mass, and the first Communion of Christmas.
A Family Eucharist will be held in Orby on Christmas Day at 10am.
A carol service will be held at St Helen's Church on Saturday, December 21, at 3pm.
After the carol service, mulled wine, tea, coffee, and mince pies will be served.
Following on from the carol service, there will be a village party for Stickford residents with a barbecue and live band 'Itchy Fingers' performing in the church.
Coningsby and Tattershall Ukelele Band will be providing the entertainment at Stickford Local History Group's next meeting tomorrow (Thursday,December 19) in Stickford Community Centre at 7.30pm.
Admission is priced at £2.50 (£1 for members), which includes refreshments.
A Eucharist will be held in Welton le Marsh on Christmas Day at 9am.