They did themselves proud after winning two silvers and a bronze in an event that saw over 200 crews competing.
Best known to most of the Boston crews and coaches as 'the other end' of the Boston Marathon, for all but one of the Boston juniors this was the first time they had raced away from their home stretch of river, so nerves and excitement was running high.
The Lincoln head is raced over two distances - a tortuous 3.5km, or a more sprint length of 1.5km, raced against the current, and on Sunday into a headwind.The juniors put on an an excellent performance to bring home 2 silver medals and a bronze. This could easily have been an even better outcome for our bronze medal winners, Lucy Walker and Emma Pearson (racing J16 double sculls).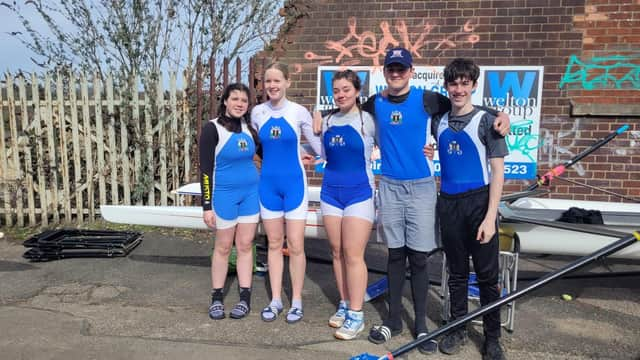 The girls put in a really beautiful row, catching up quickly with the crew ahead only to find themselves having to overtake, around a capsized competitor in the water, a sunken tree and on a narrow, reedy bend in the river.
Unfortunately this was a couple of obstacles too many and led to a clash of blades and then a crash. The amazing pair managed to pull themselves out of the resulting mess and go on to take that bronze place - a truly inspiring piece of rowing and determination - if not the timing or placement that they deserved.The double silver medals for the Boston crews, also meant two silvers for brother and sister Olivia and Jamie Winter.
Olivia competed in the J13 women's sculls, completing the shorter 1.5km race in 9minutes and 14seconds; and her older brother, Jamie taking silver in the Junior 15 double sculls with Herbie McCourt putting in a fantastic row at bow.
The boys completed their race, 3.5kms in 16minutes and 40seconds. An inspiring performance, they overtook one of their competition in the first few minutes - with no other obstacles to navigate around.
All the crews and coaches would like to send their congratulations to Lincoln rowing club, for well organised event and the competitors and crews that took part.