Karan Holland says she's no artist - but when faced with a bill for £55 for her tyre repair she felt she had to do something to highlight the problem.
"Drivers were putting their thumbs up to me and one stopped and said his car was damaged on the same pothole just a week before and it cost him £125," said Karan, 55, from Spilsby..
The damage to Karan's car happened on Friday as she travelled between Halton Holgate and Gunby Roundabout through the Little Steeping Aerodrome.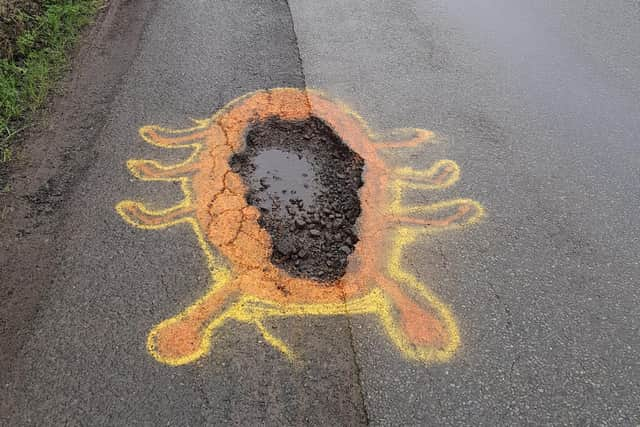 "A friend came out to change the tyre for me but I was so angry I went back the next day with a tin of spray paint to get revenge - and I decided to turn it into a bug," she said.
"I did a couple more and painted rings around others.
"Some of them have flooded since the rain and you can't see them, which makes them even more dangerous.
"Since then I've been down a road opposite Sainsbury in Spilsby and have painted some butterflies. The yellow paint was given to me by a retired council employee who still had a tin in his shed.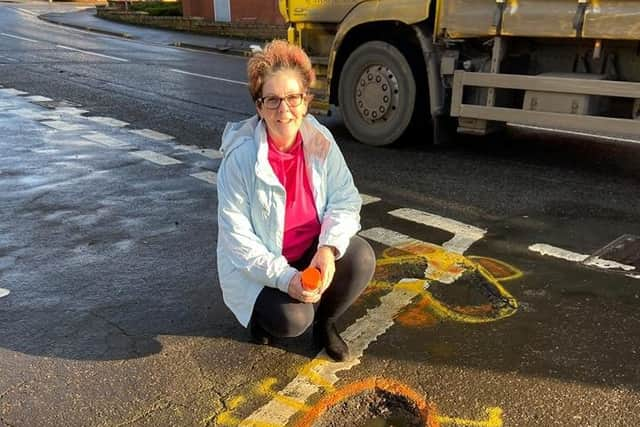 "People say I'm artistic but really I'm not. I just want to highlight the problem - but I think Bugsy is a good name for me."
Karan has been hailed a hero by other motorists who are tired of dodging the potholes in the roads.
"I can't believe the number of emails and messages of support I've received," she said. "I even walked into my local and people cheered and said 'keep it up'.
"The county council says it's going to cost more to fill the potholes now because they are going to have to get rid of the graffiti.
""Some people fear I could get into trouble but I don't care. Something has to be done about this.."
Coun Richard Davies, Lincolnshire County Council executive member for highways, said the authority realises 'potholes are a bugbear'.
He said: "The best way to get a pothole fixed in Lincolnshire is to report it to us through our website. Dangerous defects will be dealt with within 24 hours, and other repairs will be scheduled and repaired in a matter of weeks.
"Last year we filled 90,000 potholes and resurfaced over 400 miles of our 5,500 mile road network. We appreciate that potholes are a bugbear for drivers, but artistic acts such as this will actually slow us down when it comes to repairing them, as crews will have to spend time cleaning the road too."