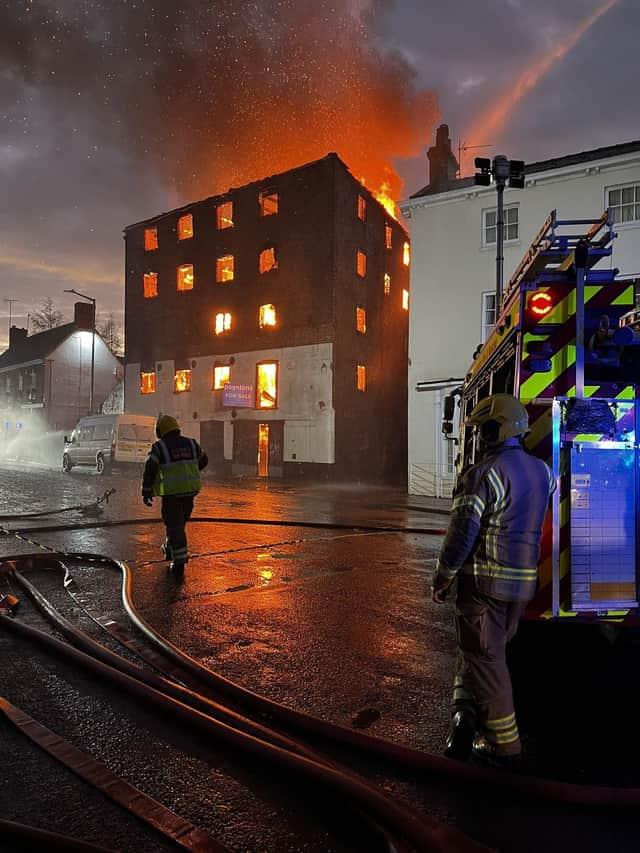 Nine fire appliances plus two aerial ladder platforms a water carrier and a high volume pump were called to the five storey building, on London Road, just before 4pm on Monday after passers by noticed smoke and flame erupting from the structure.
The building has stood empty for several years since being vacated by Silt Side Services and crews worked into the night to bring the inferno under control.
This morning two appliances and crews remain on scene with an aerial ladder platform to damp down, according to East Division Commander Matt King for Lincolnshire Fire and Rescue Service.
He said: "They will be there for most of the day today and we are working alongside the council's buildings inspector to determine what is going to happen next with the structure. As there has been quite a lot of damage to the integrity of the building, we want to make sure it is safe and the cordons will remain in place and crews will remain on site.
"The roof and floors have gone."
After initial precautions, he said the possibility of asbestos in the building was not a concern, but staff and guests are not yet allowed to return to the neighbouring Quayside Hotel or the occupants of the next door house which happened to be unoccupied at the time of the fire.
He said they were concerned about stopping the fire from spreading to these neighbouring properties and a petrol station across the road. "We were concerned about burning embers heading towards the Port of Boston," added Mr King.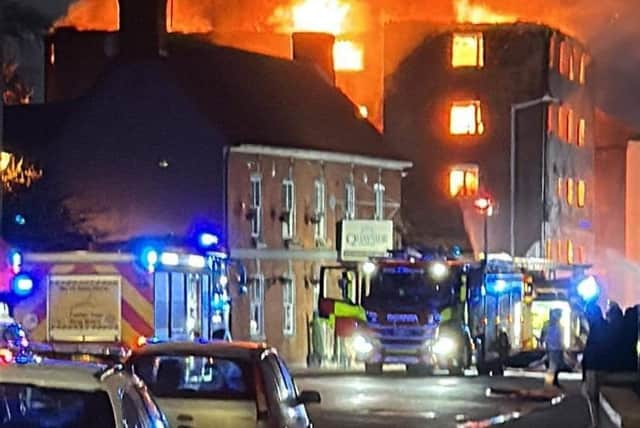 "We did have difficulty securing enough water supply at first so our efforts concentrated on protecting the surrounding buildings. Then we attacked the fire and got it under control.
"The petrol station was closed and the pumps shut off and we deployed a crew onto the port side in case of secondary fires but fortunately we didn't have any. There were also some fishing vessels and a railway line nearby, so all things we had to consider."
He said there was the possibility that the property had lorry shock absorbers still stored inside, which could explode under heat, but crews kept well back and fought the flames from outside, while public were kept behind cordons.
Crews were called in from as far afield as Market Rasen, Market Deeping, Grantham and Lincoln with around 50 firefighters involved.
"We had the fire under control by about 8pm and began scaling down," he said.
They will be carrying out a full investigation of the cause which remains undetermined at this stage, but the building is currently unsafe for officers to go inside.
Mr King added: "The community will be concerned as it is the second large building fire we have had on London Road in the last year. This one is slightly different in nature, whereas the other was a block of residential flats. Our investigation will try to determine the cause. We don't think there will be a link, but if there is we will be out and about providing fire safety advice and reassurance."
A Boston Borough Council spokesperson said their building control officer is on site but it is still too dangerous to make an assessment inside as it is in a very bad state.
"A structural engineer is making an assessment using a cherry picker and once they have made their report it will be a decision for the property owner, based on that opinion, whether he demolishes it or not."
The building was on the Heritage at Risk register and Heritage Lincolnshire is on site advising as well.
The property has been on the market with Poyntons estate agents with a planning application in progress for it to be converted to a ground floor retail unit with separate restaurant/café with a new access to the first, second, third and fourth floors for 12 one bedroomed studio apartments.