Appeal after thieves steal sausage-seller's catering trailer from farm shop in East Heckington
A mobile catering trailer used by Boston Sausage to sell takeaways during the pandemic has been stolen.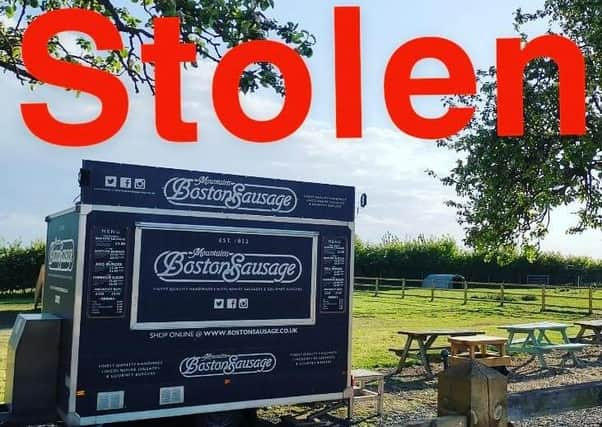 Thieves brought their own towbar hitch and wheel brace to take the trailer, which has Mountain's Boston Sausage emblazoned on the side, from the Mountain Abbey Parks Farm Shop at East Heckington on Saturday night at around 9.30pm.
The company has shared details of the theft on Facebook in the hope that someone might spot it and help them get it back.
And it has stressed that they will continue to provide their lockdown takeaways for their customers, which includes emergency services and other key workers, using the farm shop restaurant kitchen until they can get it back or replace it.
A spokesman for the firm told The Standard that the theft happened after a group of men in a Vauxhall Vectra gained access to the car park after breaking the lock.
Three men got out of the car and cut through the wheel lock of the trailer, fitted the new tow bar hitch and used the wheel brace to wind the trailer wheels back in, before driving it away attached to the car.
They headed along the A17 before heading right towards South Kyme and the trailer was last seen in the Billinghay area at around 10.30pm on Saturday night.
The spokesman said of the trailer: "Since the Covid pandemic had forced us to close the farm shop restaurant we decided to use the catering trailer to help keep the staff employed and offer our customers the chance to get some hot food and drink whilst shopping with us.
"It had proved very popular and we had built up a great customer base of regulars including personnel from the emergency services and key workers.
"We intend to open a takeaway unit in the car park as soon as possible, but until we can source a new unit we will be offering the same delicious food as a takeaway from the restaurant kitchen located within the farm shop."
He said posts on Instagram and Facebook had now had more than 150,000 views along with "many positive comments which have helped lift our spirits".
If anyone has any information that can help, they are asked to contact the farm shop on 01205 821610 or contact police on 101.