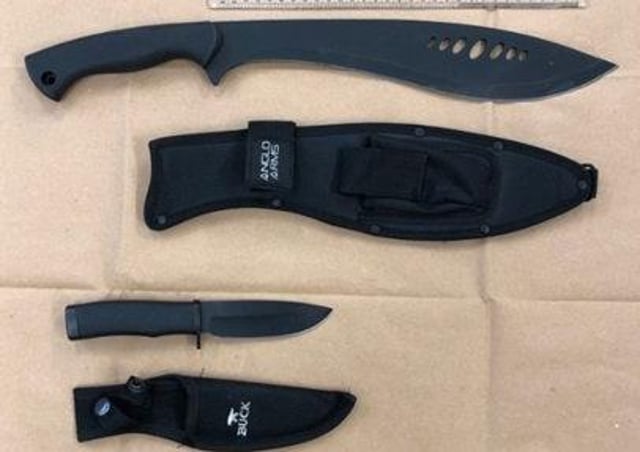 Knives recently siezed during police drugs raids in the region. EMN-210715-111610001
Other sections of the act that now take effect include an updated definition of flick knives to reflect changes in weapon designs, and the banning of private possession of flick knives and gravity knives.
Lincolnshire Police are highlighting these changes to make all residents aware of the new laws.
The rest of the act will commence later in the year, and will bring in new provisions for the control of goods sold online, as well as placing responsibility onto delivery companies to conduct age verification at delivery stage. These are important developments that will help police to address the growing issue of online sale of knives.
Lincolnshire Police and partners will be working to educate the public and the business community regarding these changes in legislation. They say the introduction of such measures will provide them with further means to help deter young people from becoming involved in owning a knife and knife crime.
A 21-year-old man died after being stabbed in Boston yesterday (Wednesday), while a 15-year-old boy was arrested after a 16-year-old boy suffered stab wounds to his face on Castle Causeway in Sleaford on Friday, July 2.
National Police Chiefs' Council lead on knife crime, Deputy Assistant Commissioner Graham McNulty, said: "The harm caused to families and communities through the tragic loss of life relating to knife crime is devastating and that is why focusing on this issue remains a top priority for policing.
"We welcome the changes to legislation being introduced by the Offensive Weapons Act. These measures will help officers to seize more dangerous weapons, deal with those intent on using them to cause harm and suffering, and crucially, make it more difficult for young people to get hold of knives and other dangerous items in the first place.
"Knife crime is not something that can be solved by policing alone. We are working with businesses, schools, charities and community schemes to educate young people and explain why carrying a knife is never the right choice. This early intervention plays a vitally important role in stopping young people from turning to a life of crime."