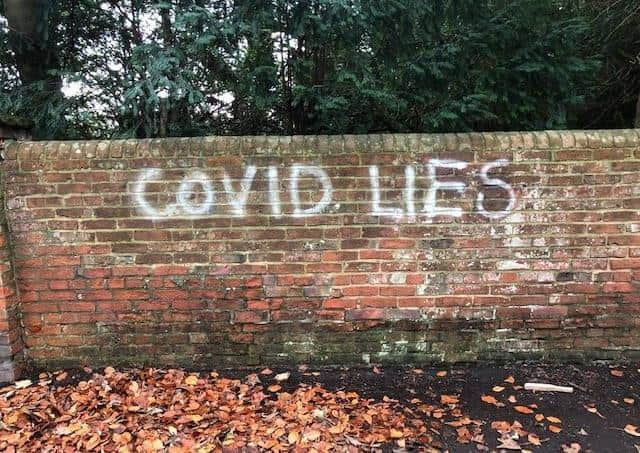 At the town council's meeting last week, Coun David Ford proposed that the council should write to the police about the matter.
Coun Ford said the graffiti had been spotted in public spaces such as Hubbard's Hills and Spout Yard and on several private walls around the town.
Coun Ford said: "I have every support for anyone wanting to debate various issues around Covid.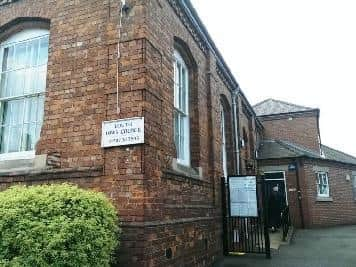 "But I would say that we are having this graffiti in our faces all the time, which I think is upsetting. And I know it's upsetting because people have said to me they are upset, such as people working in the health service for instance.
"Apart from anything else, they are doing an awful lot of damage to public spaces and private spaces in town.
"I don't know if the police have ever identified him or her. I assume it's just an individual.
"But [this proposal] is really just to flag up that we, as a town council, want to offer support to the public in Louth and ask the police to investigate the matter.
"If this person wishes to express their views on Covid [...] don't write it on our walls."
Coun Hannah Filer thanked Coun Ford for bringing the item to the council, saying it was a "emotional and fragile" time for the public regarding Covid-19.
Coun Julia Simmons agreed, saying: "I'm all for free speech, but at this particular time, and especially for those who have lost people through Covid, I find this very insensitive and we need to stop it, because the problem is self-perpetuating. Something should be done."
Some councillors suggested approaching the district council with regard to clearing the graffiti, but the Town Clerk informed councillors that, "East Lindsey are not able to touch anything that they don't own", such as private walls.
Coun Andrew Leonard suggested the town council consider also contacting a local contractor as a "second line of defence" in case the district council were unable to help.
Ultimately, it was proposed and agreed by members that the town council would: (1) write to Lincolnshire Police to see if anything could be done to investigate and catch the culprits; (2) write to East Lindsey District Council to see if anything could be done to urgently remove the graffiti due to the sensitive nature of the situation; (3) get quotes from local contractors, if required.
The Louth Leader approached Lincolnshire Police for comment, following the town council meeting.
Wolds Inspector, Sarah Constantine, said: "The neighbourhood team have been conducting regular patrols in those areas, and I would appreciate that the public continue to report any damage to us, as often it is not reported to the police, but discussed in other forums such as social media without us being made aware.
"Obviously this type of behaviour is a crime and whilst I appreciate the Covid pandemic is an emotive subject, committing criminal damage to property to protest causes concern and anxiety within our community and is an offence. Where we can identify who is responsible we will follow up with appropriate action.
"I would appreciate that the public contact us with any information or evidence they may have about the damage and who is responsible."
• Call 101 if you have any information about the graffiti incidents.