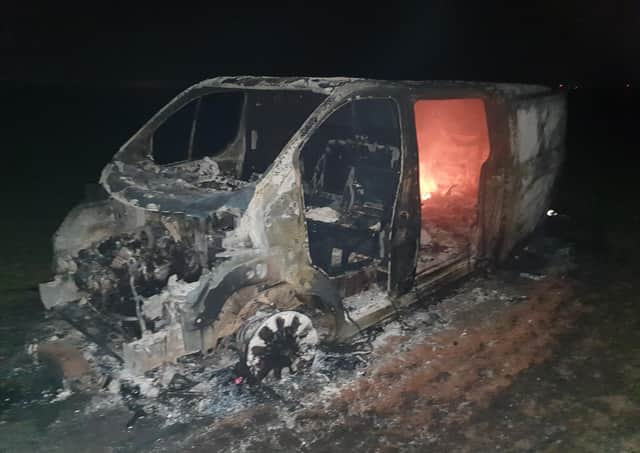 The Billinghay yard of 1 Stop Spas was broken into on Tuesday night when four hooded males cut a hole in the rear fence of the compound of the pre-owned hot-tub showroom.
Melissa Brady from the firm said: "They spent 10 minutes in the yard gaining entry into our newest Ford Custom van.
"At 10.40pm they drove a black pick up style truck across the rear field and into the yard, pushed the van into position and towed it out the yard across the field and onto Sprite Lane at 10.44pm."
The vehicle was found around a mile away from the premises on Sprite Lane having been dragged across two fields before being stripped of all possible parts before being completely burnt out. The alarm was raised by walkers.
Police are investigating and are appealing for anyone living or dog walking on Mill Lane or Sprite Lane in Billinghay around that time who may have witnessed any suspicious activity or vehicles in the yard behind the locked gates or saw the van being driven or towed through the fields behind the estate through to Sprite Lane between 6pm and 9.45pm to report it to Lincolnshire Police quoting incident number 415 of March 17.
Melissa said: "We are lucky in that we have a fleet of vehicles so immediate impact for our customers has been minimal. However, the time spent compiling insurance reports, speaking with police, trawling CCTV, in a time when we should be focusing on other pressing issues in the current climate has had an impact, both mentally and time wise."
She said: "It's highly frustrating, in removing that vehicle, they have damaged another van and a trailer too as they towed it past them. We worked hard to build our family business and give employment opportunities, we are not a big company who takes it on the chin. It hurts to know people out there can do these things to others."
Firefighters from Billinghay were called out at 10pm to put the burning van out, which was completely destroyed. They allowed it to burn out safely.