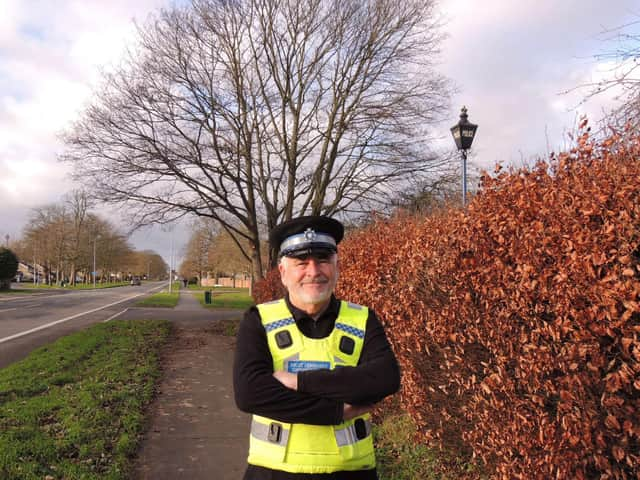 Lincolnshire Police now have 90 PCSOs and Colin Ironmonger is among the longest serving, having started in March 2003.
PCSO Colin Ironmonger had worked in production at the Grantham Journal for 25 years, while also rising to vice-chairman of Ancaster Parish Council, until the PCSO role was advertised. He said: "The community work attracted me.
"I did an initial four weeks in Grantham then a post came up in Sleaford."
He later moved on to cover a wide rural area north and south of Sleaford.
In the early days it was unclear what role PCSOs played. "We were called 'plastic policemen and you get used to the abuse, but within a couple of years our role developed and came to the fore," Colin said.
He said it was about prevention, providing daily higher visibility patrols and gleaning valuable local intelligence from those communities.
"We're there for the community. We're here to support the police, not take the role of a police officer," Colin said."It's certainly very important to engage with the public – we need to know what the public's concerns are. Very often we'll deal with the parish councils because they get a general feeling of what's happening in villages."
A lot of work involves working with businesses, resolving 'low level' neighbour disputes, nipping anti-social behaviour in the bud by visiting and working with schools to develop the 'mini police' scheme and helping and advising vulnerable people who may have fallen victim to cyber crime to try to reduce the risk of them becoming repeat targets.
Colin added: "I get to talk to a lot of farmers. Things like agricultural machinery theft, hare coursing; it has a big impact on the rural community.
"Hare coursing has changed from a lot of ex-miners to quite violent criminals who will stop at nothing. I have had hare coursers drive straight at me in my car.
"A lot of the main concerns, certainly on my beat, are speeding issues. We do our best to alleviate it by doing speed enforcement, doing speed education which I find as a PCSO sometimes works better than enforcement. Obviously if people are breaking the law by speeding excessively it is dealt with."
He will often help on scene at road collisions.
Coming up to his 70th birthday he now only works part-time, but has always relied on using his mouth to handle most situations, commenting: "I come across people now who used to be in the market place after school that are now married with children and come up and chat to me."
He said the job has changed over the years as they have gained more powers to issue speeding fines, detain suspects and search for drugs and alcohol.
PCSO Colin said: "I've been very proud to work for Lincolnshire Police. I enjoy the job, we've got a great team and I've enjoyed every minute of it.
"People will now say they are glad to see us and thank us for being there."
Jan Palmer, chairman of Heckington Parish Council, said: "We would be a lot worse off regarding our safety if we didn't have Colin patrolling on a fairly regular basis. It's all these years of knowledge which you can't get out of a textbook."