Gareth Hart death: Murder trial finds accused guilty of 'unlawful killing'
A man was today found guilty of unlawfully killing a holidaymaker who suffered a fatal stab wound to the heart after being cleared of murder.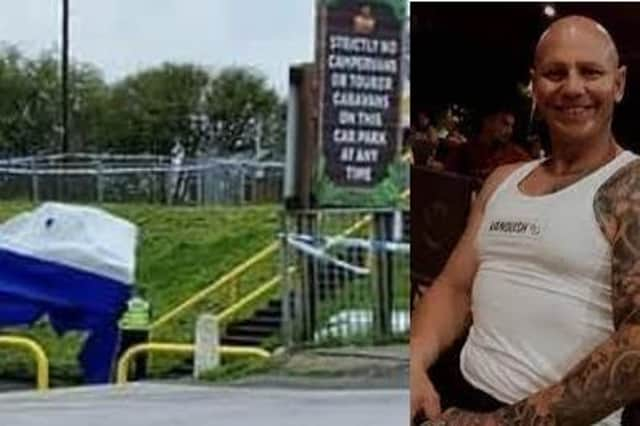 Gareth Hart, 43, from Barnsley, was on holiday with his family in Ingoldmells, near Skegness, when he was fatally stabbed.
Joseph Malek, 33, from Derbyshire, had denied murdering Mr Hart on 6 April this year, claiming he lashed out with his pen knife after being attacked.
After a two week trial at Lincoln Crown Court the jury cleared Malek of murder but convicted him of a second charge of manslaughter.
Malek, who was represented by Gordon Aspden KC, will be sentenced on November 3.
He was remanded back into custody by Judge Simon Hirst who told him: "The jury have found you not guilty of murder but guilty of manslaughter.
"You understand that means a custodial sentence, the length of which will be determined on 3 November."
Emergency services had found Mr Hart with a stab wound to his chest after they were called to an incident outside a takeaway on Roman Bank, Ingoldmells.
Prosecutor, Christopher Mr Donnellan KC, told jurors Malek inflicted the fatal blow with a pen knife he had produced from his shoulder bag.
Mr Donnellan said: "On 6 April just before 1am Gareth Hart was stabbed in the heart. It took place in a car park, sadly in the rain.
"He was on the ground, struggling, wrestling with the defendant."
Mr Donnellan said what began as a fight and tussle between the two men turned into a fatal stabbing.
"It is right to say Gareth Hart may have thrown the first blow," Mr Donnellan admitted.
Jurors heard the fatal stab wound went through the wall of Mr Hart's chest cavity and into his heart.
"Most people did not see Joseph Malek had a knife, and that probably included Gareth Hart," Mr Donnellan added.
Despite the efforts of those in the area to save Mr Hart, he died a short time later, jurors heard.
Mr Donnellan told jurors many of those involved in the case had spent a perfectly peaceful evening in nearby Buddies bar, before later crossing over to the Fantasy Bar and Grill.
Mr Hart was with his fiancee and various children after coming down from Yorkshire, Mr Donnellan told the jury, while Joseph Malek was staying at the nearby Butlins resort with his sister and other family, and arrived at Buddies on his own.
"There was a bit of silliness going on with balloons" Mr Donnellan said. "It appears Mr Hart was being quite jovial and interacted with other groups."
Mr Donnellan said Malek had gone out with a pen knife which he carried inside his shoulder bag and by 12.30am everyone was either inside or outside the Fantasy Bar and Grill.
CCTV footage from inside the takeaway showed Mr Hart going outside shortly before 1am and then becoming involved in an altercation with Malek, who he did not know.
Giving evidence, Malek confirmed he lashed out with the pen knife after claiming he was repeatedly punched by Mr Hart who he said also tried to bite his ear off.
"That's why I started lashing out with the pen knife. I just wanted him to get off me. I was terrified," Malek claimed.