Gayton le Marsh driver jailed for 27 months for causing serious injuries to motorcyclist
​​A Gayton le Marsh man who caused serious injuries to a motorcyclist when his truck crossed onto the wrong side of the road after he used his mobile phone has been jailed for 27 months.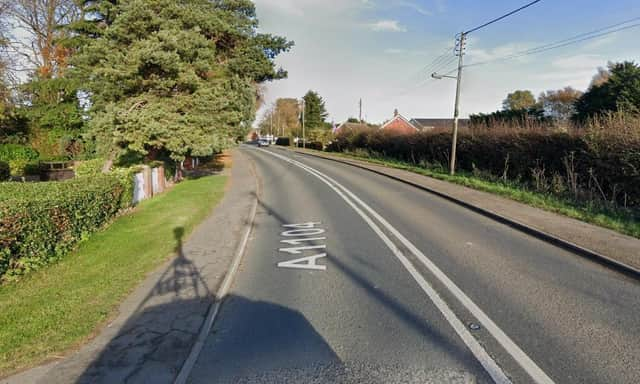 Lincoln Crown Court heard police attended a collision in Station Road, Alford, and found motorcyclist David Wagstaff lying on the ground with what turned out to be life-changing injuries.
His BMW motorcycle and the American-style Chevrolet pick-up truck, which had been driven by Alexander Hiley, 39, were also at the scene.
Tom Heath, prosecuting, said analysis of Hiley's mobile phone showed he had sent a Facebookmessage to his daughter at 5.21pm – two minutes before he rang 999 to report the collision – and one of the tyres on the truck was bald.
Mr Heath argued Hiley had been using his mobile phone either just before or at the time of the collision.
High levels of a cocaine metabolite were also found in Hiley's system, but he passed a roadside drugs test.
Mr Wagstaff was taken to Hull Royal Infirmaryand treated for two fractures to his right leg, a broken left ankle, and given a skin graft and blood transfusion.
In an initial victim impact statement, Mr Wagstaff said the events of Sunday, July 23, 2022, changed his life and he could not visit his 87-year-old father, go walking with his wife and their three dogs, or take up employment.
In his police interview, Hiley said he could remember getting to the brow of a hill but then blacked out and could not remember the collision. He answered 'no comment' when asked about his phone.
Hiley, of Main Street, pleaded guilty to causing serious injury by dangerous driving on July 23, 2023.
The court heard Hiley received six pointson his licence for using a mobile phone while driving in July 2019.
David Godfrey, mitigating, argued there was not enough evidence to prove Hiley had passed out because of his regular cocaine use.
He went on to say that while the injuries to Mr Wagstaff were unpleasant, they were not themost serious, and that Hiley would now be suitable for a suspended jail sentence.
"He knew he had hit rock bottom and he admitted himself into a rehabilitation unit for 12 weeks," Mr Godfrey added. "He is not using Class A drugs anymore."
Hiley was also banned from driving for 49 months and must take an extended retest.
Passing sentence on Thursday, Judge Catarina Sjolin Knight told Hiley that he had been driving on the wrong side of the road: "At the time ofthe collision your vehicle was closer to the grass verge than the centre white line."
Investigating officer PC Christopher Hearn said: "I am glad the court has given a sentence that affects the seriousness of the offence.
"Despite the result, the victim's life will never be the same again. This collision has taken a massive physical and emotional toll on him, but I am glad he is able to now put this behind him.
"Please remove all distractions before you get into your car and don't drink and drug drive."