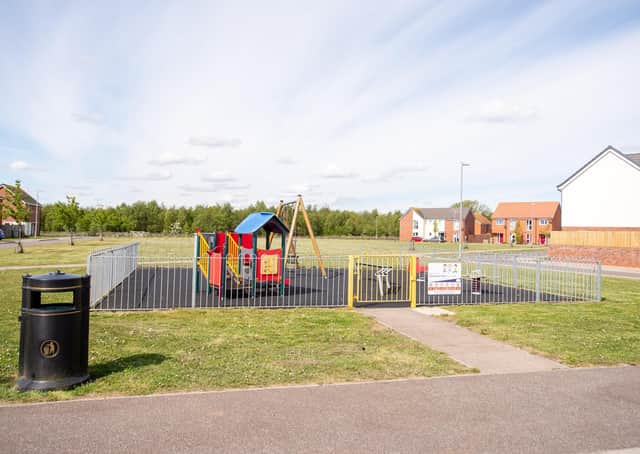 Police have confirmed they were called to the Centurion Park estate last Tuesday evening (May 12).
The man was arrested and subsequently charged with the assault and unspecified public order offences.
The incident comes as a resident contacted police and a district councillor to complain about on-going problems with anti-social behaviour (ASB).
In an email, the resident - who does not want to be named - says drugs are one of several issues.
• There are regular fights, some involving men attacking women;
• People are living at addresses without registering with a housing association;
• Windows have been broken;
The resident adds: "This is just to name a few things.
"The main thing is this estate has at least five or maybe six houses using drugs."
He adds drugs are also being sold from one property with a person calling 'two or three times a day' to collect substances.
The resident continues: "When most people moved onto this estate, they had to have checks to make sure they don't have any criminal records etc.
"I'd say 40% of these people (involved in recent ASB) have had run-ins with the law.
"We don't want families growing up around this.
"Apparently, the Platform Housing Group are monitoring this along with you guys (the police).
"I feel not enough is being done. Regular checks need to be done before something really bad happens.
"Sorry for the rant but this is just the way I feel."
Wolds Division Inspector Sarah Constantine said police were doing everything they could to crackdown on ASB.
She said: "We were called to an incident (74: 12/05/20) on the estate which led to the arrest of one adult male for public order offences and assault on a police officer. This individual has been subsequently charged.
"Police enquiries are still ongoing in relation to this incident, which involved a small minority of people having a disproportionate impact on the community on the estate.
"If anyone has any further information in relation to this, or any of the issues on the estate, they can contact the police via 101 and quote the incident number or make a report via Crimestoppers.
"We are currently working closely with our partner agencies at East Lindsey District Council and Platform Housing,
"Again, we are looking to use our powers under ASB legislation to tackle this behaviour.
"The local team are regularly on patrol on the estate, as is acknowledged by the resident in the email."
Insp Constantine confirmed officers had visited the resident to discuss his claims and offer reassurance that they are taking the issues seriously.
She also confirmed there is no legal framework in place for police to comment on any resident who is in line for accommodation on the estate.
Police also handed out a number of Community Protection Notices after seven people were arrested following trouble in the Bull Ring, Horncastle, last month.
Six adults and a teenager were arrested and could still face further action.
Wolds Division Inspector Sarah Constantine said: "The investigation is still on-going so I have no further update around any criminal charges.
"We are, however, proceeding jointly with East Lindsey District Council around ASB legislation and all parties are being dealt with under ASB powers, which is separate legislation under the Anti-Social Behaviour, Crime and Policing Act 2014.
"We have issued Community Protection Notices, where appropriate, to all involved."
Meanwhile, police resources have been boosted by the arrival of Sgt Andy Burtenshaw.
He takes over from Sgt Jacqui Barnsley, who has been promoted temporarily to Skegness area as an inspector.
Sgt Burtenshaw is a very experienced officer with an extensive CID background, having investigated complex criminal cases.