Man jailed for fatal stabbing outside takeaway in Ingoldmells
A man who killed a holidaymaker with a stab wound to the heart has been jailed for ten years.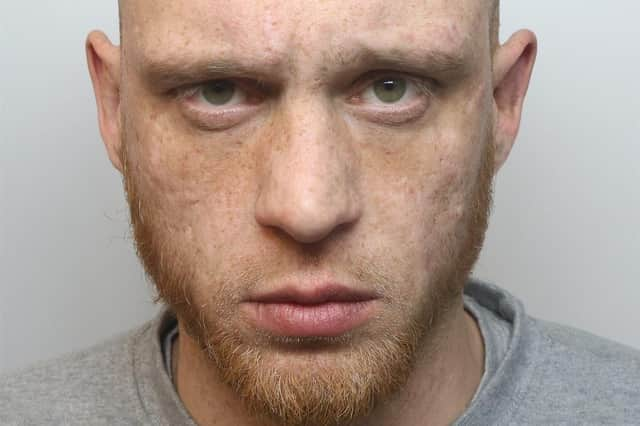 Gareth Hart, 43, from Barnsley, was on holiday with his family in Ingoldmells, near Skegness, when he was fatally stabbed outside a takeaway by Joseph Malek.
Malek, 33, from Derbyshire, had denied murdering Mr Hart on 6 April this year, telling jurors he lashed out with a lawfully held pen knife after being punched.
After a two week trial at Lincoln Crown Court in October the jury cleared Malek of murder but convicted him of a second charge of manslaughter.
Passing sentence on Malek, Judge Simon Hirst made it clear: "This is another reminder, if society needed, of the dangers of carrying a knife, whether they are lawful or not."
Judge Hirst told Malek he produced the knife after being punched by Mr Hart but his claim of self defence was rejected by the jury as it went far beyond what he could have done.
"It was open to him (Malek) to show the knife to Mr Hart to deter him rather than hiding it down by his leg." Judge Hirst said. "It was open to him (Malek) to leave."
Judge Hirst said he was satisfied Mr Hart was stabbed once by Malek before the two men went to the floor, and then Mr Hart was stabbed a further three times.
"Gareth Hart's children have been robbed of a future with their father," Judge Hirst added.
Judge Hirst said the presence of Mr Hart's children at the scene and Malek's previous conviction for possessing an offensive weapon were aggravating features. The judge said he also had reservations about Malek's levels of remorse.
In a victim impact statement Mr Hart's mother described how everything stopped on "that dreadful day."
"My beautiful son, my baby boy was gone," she said. She also described how nothing could replace the bond between mother and son.
Mr Hart's 12-year-old daughter added: "The feeling I have is literally indescribable." She described having no one to take her to a prom or walk her down the aisle.
She also described her sadness that Malek would probably be free from jail when he was still younger than her father.
Mr Hart's partner also described him as an "amazing person" who would do anything for her.
Gordon Aspden KC, defending Malek, said there was a long period between 2011 and this offence when he stayed out of trouble.
During that time Malek also took on the role as full time carer for his mother, Mr Aspden told the court.
In a statement Malek's mother, a former civil servant, confirmed her son would carry out nearly all her domestic tasks and help her in and out of bed.
Mr Aspden also read out a letter from Malek in which he expressed his desire to turn the clock back and insisted "never in a million years did I think someone would die because of me."
The court heard Malek was also fostered after suffering a difficult childhood, and was carrying around a lawful pen knife to cut cannabis and use as a tool.
Emergency services had found Mr Hart with a stab wound to his chest after they were called to an incident outside a takeaway on Roman Bank, Ingoldmells.
Prosecutor, Christopher Mr Donnellan KC, told jurors Malek inflicted the fatal blow with the pen knife he had produced from his shoulder bag and had been habitually carrying for around ten months.
Mr Donnellan said: "On 6 April just before 1am Gareth Hart was stabbed in the heart. It took place in a car park, sadly in the rain.
"He was on the ground, struggling, wrestling with the defendant."
Mr Donnellan said what began as a fight and tussle between the two men turned into a fatal stabbing.
Jurors heard the fatal stab wound went through the wall of Mr Hart's chest cavity and into his heart, but he also suffered three other stab wounds.
"Most people did not see Joseph Malek had a knife, and that probably included Gareth Hart," Mr Donnellan added.
Despite the efforts of those in the area to save Mr Hart, he died a short time later, jurors heard.
Mr Donnellan told jurors many of those involved in the case had spent a perfectly peaceful evening in nearby Buddies bar, before later crossing over to the Fantasy Grill and Balti.
The paths of both men unknowingly crossed inside Buddies, Mr Donnellan said, with CCTV showing both men visiting the toilet within a minute of each other and standing at opposite ends of the bar.
"There was a bit of silliness going on with balloons" Mr Donnellan said. "It appears Mr Hart was being quite jovial and interacted with other groups."
Mr Donnellan said Malek had gone out with a pen knife which he habitually carried inside his shoulder bag and by 12.30am everyone was either inside or outside the Fantasy Bar and Grill.
CCTV footage from inside the takeaway showed Mr Hart going outside shortly before 1am and then becoming involved in an altercation with Malek, who he did not know.
Giving evidence Malek admitted producing the knife from his bag after being punched by Mr Hart.
"He just instantly punched me in the temple," Malek told the jury. "It sent me flying backwards and I felt dizzy."
"I was scared, so for some reason I pulled out my pen knife, I pointed it down to the ground. It was closed but I opened it as I got it out my bag."
Malek confirmed he then lashed out with the pen knife after claiming he was repeatedly punched and then bitten by Mr Hart.
"That's why I started lashing out with the pen knife. I just wanted him to get off me. I was terrified," Malek claimed.
"After I started lashing out with the knife people were saying why is there so much blood."