More than 100 weapons including machetes and cleavers handed in during police amnesty
More than 100 weapons have been handed in at police stations since a county-wide weapons amnesty was launched three weeks ago.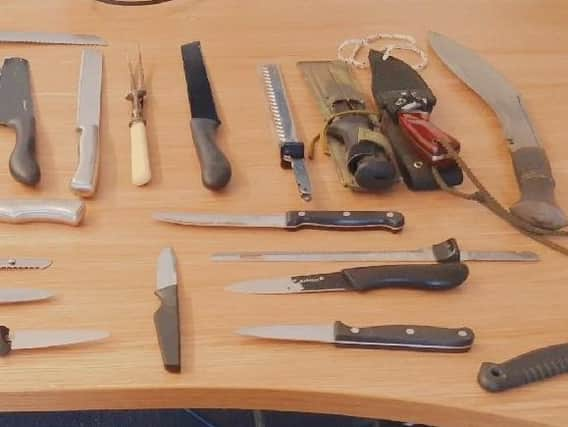 As of Wednesday this week, Lincolnshire Police said 116 weapons had been handed in so far and said the figure is constantly rising.
Among the weapons handed in have been kitchen knives, bowie knives, machetes and cleavers.
Detective Inspector Dave Harrop says: "This is really promising and I'm delighted so many people have taken the time to discard knives which could be used as weapons if they were to fall into the wrong hands.
"There is still just under two months to take part in our amnesty, so please do take advantage of this if you have an item that could be considered a weapon and drop it into one of our secure bins."
The amnesty is part of Operation Raptor which was launched at the end of 2019 to help reduce offences involving weapons on the west of the county.
Secure bins have been set up at the force's police stations in Lincoln, Grantham, Boston, Skegness and Spalding where they will remain in place until 18th December.
The amnesty doesn't apply to firearms as checks need to be made with these, and anyone wishing to surrender one should call 101
Detective Inspector Harrop said: "Lincolnshire is an incredibly safe place but we still take every opportunity to reduce the number of weapons in the county.
"We hope that this amnesty will take even more out of circulation that could have otherwise been used in violence or to intimidate.
"If you're wondering if a weapon can go in the bin or not, the rule is if it doesn't go bang it can go in the can.
"This is just part of Operation Raptor, and we are constantly working to prevent crimes involving weapons, educate our county's young people about the dangers and consequences, and where suitable, to rehabilitate those that been involved in carrying weapons."