New police operation launched after fears of spike in caravan burglaries along coast
Police are launching a new operation after fears of a spike in caravan burglaries along the coast this autumn.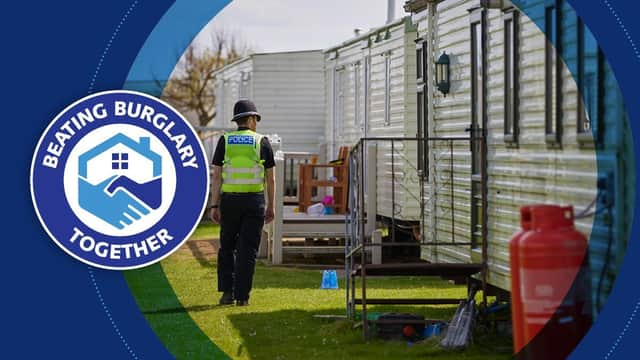 Already this year five suspects of caravan burglaries have been arrested – and now police are seeking the public's help to reduce the risk.
The Operation Songlark initiative is part of Lincolnshire Police's Beating Burglary Together campaign.
According to the Force, a number of initiatives are already underway in order to deter and detect caravan burglary.
Patrols of both uniform and plain clothes officers have been increased and drone support with heat-seeking technology is being used to target those moving around site during the night.
Additional resources, brought in from other areas, will also support Operation Songlark.
Chief Inspector for East Lindsey, Lee St Quinton, said: "We have already arrested five suspects of caravan burglary this year through our concentrated efforts.
"The number of offences is down 20% this summer compared to the summer of 2022.
" We want to make sure that these positive results continue with our increased patrols, use of drones and additional resources. You can help. Please take all your valuables home with you including electrical items like your TV.
"Do not hide anything in cupboards or under duvets; criminals will find them.
" Sadly, we know how burglary affects people. We see their fear and frustration.
" We will continue to do all we can to protect our residents and visitors and appreciate their support in reporting anything suspicious."
In the like-for-like period from January to August, overall incidents of burglary in 2023 are down in East Lindsey by 20.1%. In this same period, caravan burglaries in 2023 are also down 20.1%.
Chief Insp St Quinton continued, "This reduction has been achieved through a collaborative effort with East Lindsey District Council and the Caravan Park Watch scheme. It's a positive trend that we are determined to continue."
John Chappell, Chairman of Caravan Park Watch, added, "Not only has the industry become the eyes and ears of the Police in this sector but by leading from the front, Lincolnshire Police have achieved an enviable unity amongst Park owners and operators. It is incredible what this police and business partnership has achieved so we 100% welcome a renewed focus by Lincolnshire Police on raising awareness of caravan burglaries and crime prevention advice."