Simon Densham threw down a carrier bag containing the weapon in the beer garden of the Nottingham city centre venue, at 5.30pm on July 5, prosecutor Leanne Summers said.
She said Densham harassed a woman between August 1 and December 13, last year, after she asked him for a lighter in a Warsop pub.
He left gifts for her like T-shirts and a voodoo doll at the pub, and shouted her name while doing karaoke, Ms Summers said, adding that "his behaviour caused her anxiety and distress."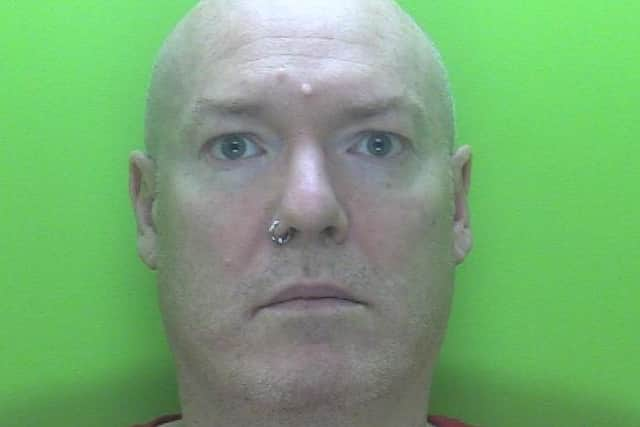 A series of "unnerving" Facebook messages made the woman fear for her safety, and Densham was arrested in December, while carrying a wooden imitation firearm.
On July 13 this year he sent the woman's sister two messages. One said: "I hear you're a twin. In Kirkby they kill the first-born."
He also made references to killing a dog, which she worried was a reference to her own dog.
The court heard he has 20 previous convictions for 41 offences, including theft, drugs and possession of weapons: a blade in 2000, an imitation firearm in 2008, and a blade and an offensive weapon in 2019, for which he received a suspended sentence.
The court heard his diagnosed mental health condition was exacerbated by his consumption of drink and drugs.
Biana Brasoveanu, mitigating, said the messages were mainly "rants," but in some of them he "recognised he was unwell and needed to address his harmful behaviour."
"In order to manage his risk in the community a robust risk assessment by the probation officer is required," Ms Brasoveanu said.
He has been hospitalised a number of times, she said, but this "only put a patch on the problem."
She said his alcohol abuse and drug misuse could be addressed by a drug rehabilitation requirement.
Densham, 46, of Derby Road, Kirkby, pleaded guilty to harassment, possession of an offensive weapon and making a malicious communication.
On Thursday, Judge Steven Coupland jailed him for 16 months and ordered a restraining order until further notice.
In these confusing and worrying times, local journalism is more vital than ever. Thanks to everyone who helps us ask the questions that matter by taking out a subscription https://www.localsubsplus.co.uk/ or buying a paper. We stand together. Nancy Fielder, editor.