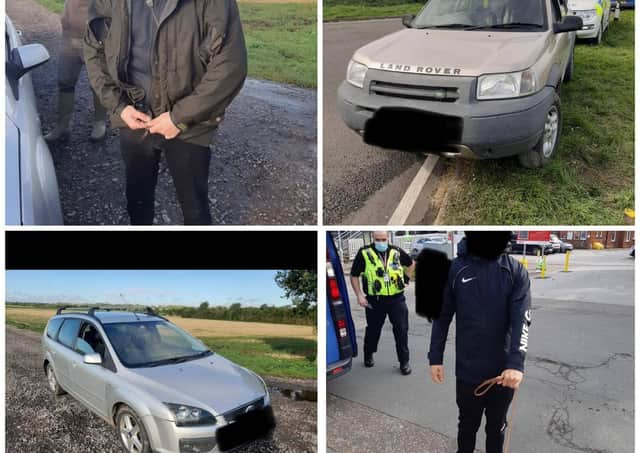 Suspected hare coursers caught and sent packing last week by Cambridgeshire officers in Yaxley and Thriplow. EMN-200930-133109001
By working with other forces across the country, the county's officers can share information and intelligence on offenders who cause greatest harm to rural communities.
Operation Galileo was first launched by neighbouring Lincolnshire Police, who work closely with Cambridgeshire to tackle the serious cross-border problem of hare coursing which spans the fens.
The last two seasons have seen the fewest number of incidents on record in Lincolnshire, a concerted effort to encourage timely reporting from the local community, and use of technology such as police drones and the What3Words App for accurate locations. With 873 incidents during the 2018/19 season although there was an increase to 1,043 incidents last year, there is still more work to be done say Lincolnshire's dedicated rural crime officers, but it is clear support from local residents is having a real impact.
Meanwhile the Cambridgeshire force's Rural Crime Action Team Tweeted as they caught their first lot of coursers of the seasons near Yaxley last Thursday, a second group were caught near Thriplow and issued six Community Protection Warnings, interviewed and reported three suspects and seized two vehicles. "All dispersed and banned from entering the county," said the team.
They also hailed a success this week in another aspect of their work - seizing 200 cannabis plants in a massive drugs farm set up at christchurch, near Wisbech on Monday in the early stages of growth. It had an estimated £160,000 potential yield.
Prevention continues to be the focus of Operation Galileo, supported by more sophisticated prosecution and intelligence gathering capabilities.
Lincolnshire has continued to invest in its ability to use drones and has them available for use in rural areas 24 hours a day. Many other forces now possess drones and can monitor hare coursers trespassing without them knowing, and present the evidence at court more than ever before.
The 200 cannabis plants seized in a drugs farm at Christchurch, near Wisbech. EMN-200930-133120001
Chief Inspector Phil Vickers, the force's lead for rural crime, says: "We are in good shape for this season. Last season was very positive and we are looking at building on that, while also improving our efforts to fight other rural crimes such as theft of machinery and dangerous driving.
"People who live in our rural communities play a vital part in helping us gather intelligence, and we really need their support.
"The big news for 2020/21 is bringing together the top 21 hare coursing forces across the country under the Operation Galileo banner. We are now able to target offenders who cause greatest harm to our rural communities by sharing information and intelligence from across the whole of the UK.
"The National Wildlife Crime Unit (NWCU) continues to support us, and this year we are ready to use legislation in new ways against hare coursers, to seize property, assets and dogs to make hare coursing as difficult, and unattractive as possible.
Operation Galileo. EMN-200930-125421001
"We have been at the forefront of working with rural partners such as the National Farmers Union and Country Landowners Association, to seek changes to legislation that will have greater impact on offenders. Operation Galileo forces' efforts have been recognised in both the House of Lords and House of Commons in the past 12 months."
Lincolnshire Police and Crime Commissioner Marc Jones said: "I am delighted the investments I have made in cutting edge technology and equipment specifically designed for use in rural areas is making a difference.
"Hare coursers do not just have a negative impact on farming communities. The gangs that peddle in this cruel pursuit are responsible for other crimes across our rural communities and our road network and I fully support the force's growing efforts to stamp out this crime.
"Much has already been done to turn the tide on this criminal behaviour and I look forward to more positive results this year."
Chief Inspector Phil Vickers with PCC Marc Jones and other key players in the Operation Galileo team. EMN-200930-125400001
Operation Galileo is supported by many agencies including the National Farmers' Union.
NFU county advisers for Lincolnshire and South Lincolnshire, Rhonda Thompson and Danny O'Shea, said: "Lincolnshire Police have increased their focus on hare coursing and rural crime in recent years. There have been wins along the way and a reduction in incidents overall, which is really encouraging.
"That said, there is growing concern within the rural community that a fresh wave of incidents are on the way now that we are coming out of lockdown.
"The NFU will continue our close relationship with the force to encourage them to work towards their aspirational target of eliminating hare coursing. We may not get there but, by investing in the right areas, keeping focused and working hand-in-hand with the rural community, we can definitely make a big dent.
"We also will be working with them and partners to get the existing law and fine system for hare coursing changed to reflect the true cost to both the police and the landowners.
"We look forward to working with the force and the police and crime commissioner, Marc Jones, over the next year to ensure Lincolnshire and its surrounding counties are a no-go area for criminals."
Operation Galileo is launching for the coming 2020-21 harecoursing season. EMN-200930-125411001
To report large scale industrial fly-tipping, livestock or machinery theft and hare coursing incidents to the police, 100 per cent anonymously, call the NFU/Crimestoppers number 0800 783 0137.
To report a rural crime anonymously, including hare coursing, livestock or machinery theft or industrial fly-tipping, call CrimeStoppers on 0800 783 0137 or visit www.crimestoppers-uk.org Information that results in a conviction could result in a £1,000 reward.