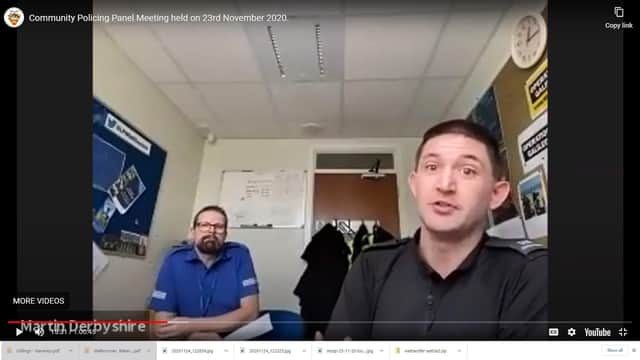 Assisted by Sleaford Town Council, the meeting was chaired by Deputy Mayor, Coun Robert Oates.
Pc Martin Derbyshire updated on their three main priorities requested by the public.
He said they were building up intelligence on drug supply and identifying specific addresses involved, but he admitted: "I don't think that will ever go away as a priority."
Pc Derbyshire said they had been targeting anti-social behaviour around Beech Rise, Castlefield and Boston Road recreation ground in particular and they were working with the district and town councils on certain aspects.
PCSO Neil Atkinson said the closure of pubs and clubs for much of the year had cut down on issues on Nag's Head Passage, but he urged people to report incidents for them to act upon.
There had also been reports of youths hanging around the railway station and police stepped up patrols, but Pc Derbyshire said the first lockdown ended these issues.
He said they had received complaints since August on speeding and noisy vehicles on London Road, Grantham Road and other main routes into town. He said extra, specialist patrols over the autumn targeted inconsiderately driven vehicles with illegal modifications. "We stopped cars and spoke to the drivers. If they are caught again there is legislation we can apply," he said.
He also invited the Community Speedwatch scheme to be reinvigorated with volunteers trained to operate speed guns.