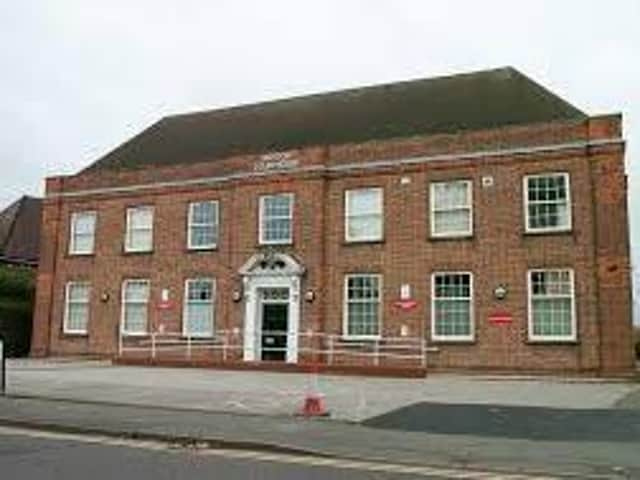 Prosecutor Jim Clare said the officers – PCs Kevin Barber and John Milne – behaved 'properly and professionally' during the half hour incident last July.
Cory Evans, 23, of West End, Spilsby had admitted at a previous hearing to two charges of assaulting the police and also to breaching a suspended prison sentence order imposed in August 2018.
Mr Clare told the magistrates that the officers had been called to Evans' house on the evening of July 30 by Evans himself as he said he needed help in a dispute with his partner.
He said they found him to be 'in drink', argumentative and threatening to harm the officers if they tried to take his son away.
Mr Clare said Evans stayed behind the door with a bottle in his hand, taunting the police.
He said Evans was shouting and abusive and in a volatile state and his partner was behind him, with a child, and 'clearly distressed'.
He said the officers established that Evans believed his partner was trying to leave and take their son with him as she was concerned about their safety.
He said Evans barged into the back of one of the officers and also drank from a glass bottle before smashing it and threatening the officers with it.
Mr Clare said the officers drew their Tasers and told him to put the bottle down but he refused, then threw it down and picked up a baby pram and a bath to shield himself from the Tasers.
He said Evans then went into a cupboard and the officers could hear smashing glass and he then came out with a bottle in his hand and threatening them with a vacuum cleaner and he was tasered by the officers.
Mr Clare said the officers behaved 'properly and professionally throughout the incident' which lasted half an hour as they tried to talk him down, although they did not receive any injuries.
Mitigating, Michael Alexander said Evans suffered from ADHD and PTSD and thought his child was going to be taken away permanently, not just for the night.
"There were a lot of hot words coming out of his mouth but that's exactly what they were – hot words," he said.
He said Evans recognised alcohol was a problem.
Sentencing Evans to an 18 month community order, the magistrates told Evans he was 'lucky we're not imposing the suspended sentence'.
He was ordered to undergo 90 days of alcohol abstinence monitoring and 25 days rehabilitation.
He was also ordered to pay £100 compensation to each of the two police officers and £175 in court costs and charges.
He was fined £50 for breaching the suspended prison sentence, which has since expired.