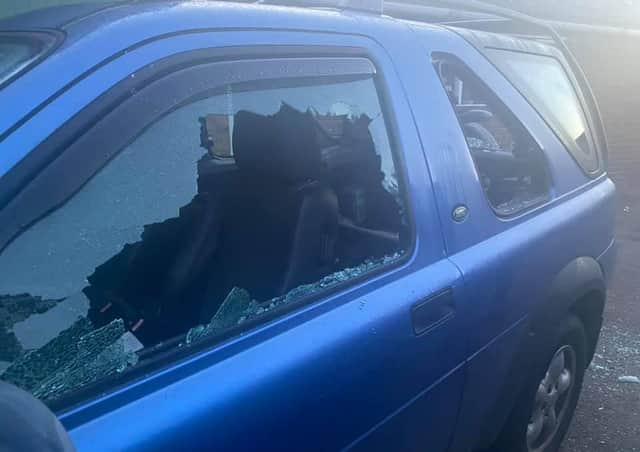 On their official Facebook page, Gemma and Marlon Jones - who have run the Boar's Head pub for the last 16 months - wrote on Monday: "This morning at 2.15am we were woken up to the sound of someone smashing our car up.
"Not only did he smash every window on our car and put dents in the body work, but he also did the same to our friend's car that was parked next to ours.
"(The culprit) is a white male, wearing a black cap, black tracksuit and trainers.
"If anyone knows anything about this, please let us know so we can forward it on to the police."
In response to heartfelt comments from dozens of supportive customers, Gemma Jones added: "We haven't had any trouble with anyone.
"Makes it worse as we don't know what we've done to deserve this. It's horrible. We've never experienced anything like this."
A Lincolnshire Police spokesman said: "The windows of a Ford Ranger and a Land Rover had been smashed and we are investigating. There are currently no arrests".
• Call the police on 101 and quote incident number 43 of July 13 if you have any information.
Vandals also struck at the 'Potty About Pets' shop in Mercer Row over the weekend, smashing a window at the front of the shop.
Owner, Meg Johnson, said: "I have heard that this happened about 10.10pm (on Saturday evening).
"If anyone has any information about the waste of space that smashed my pet shop window last night, please private message me.
"I rushed down at 6.45am on Sunday morning after receiving a message that my window has been smashed.
"I felt sick and my main worry was my pets, but everyone is okay."
Meg wishes to thank Toke and Ben from Cobbles bar for their assistance in boarding up the broken window.
Meg added: "I hope whoever has done this gets a nice bit of karma and I hope I find out who has caused criminal damage to my pet shop!"
Lincolnshire Police confirmed they are investigating, adding that no arrests have been made.
• Call the police on 101 and quote incident 121 of July 12 with any information.