VIDEO: Can you help identify the people in this video of burglary at Tattershall Farm Park?
Video footage has been released of three people Lincolnshire Police want to speak to in relation to a burglary at Tattershall Farm Park this week.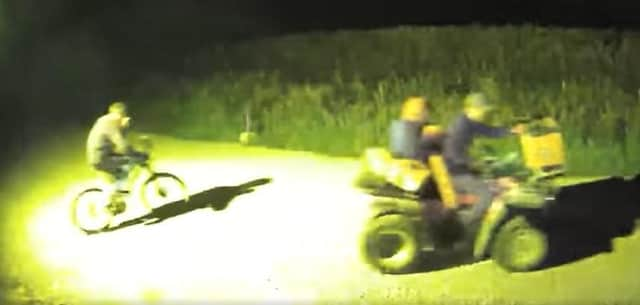 A screenshot from the Ring doorbell footage.
Numerous power tools and equipment were stolen, including a red quad bike, to the value of around £25,000.
The escape was made via the same route across a field to the rear and along Marsh Lane, Tattershall using two-barrel carts from the site to transport the stolen goods down the lane.
If you know these individuals, or you have any further information that will help with our investigation please email [email protected] or call police on 101, quoting Incident 86 of 8 August.
If you wish to remain anonymous you can report any information via CrimeStoppers by calling 0800 555 111 or online at crimestoppers-uk.org/