Video - Project aiming to deter youth knife crime culture in Lincolnshire
A new immersive experience created by Lincolnshire Police with the help of partners is aiming to deter a rise in knife culture among young people in the county.
Watch more of our videos on Shots! 
and live on Freeview channel 276
Visit Shots! now
The Happening is an educational initiative that has been funded by the Home Office to address the rise in knife crime across the country and has converted the disused custody suite at Sleaford Police Station with the guidance of school children and help from a range of other organisations.
Having worked with three county schools (Athena (Lincoln), St George's Academy and Carre's Grammar school (Sleaford) in a pilot to improve on the experience, it will go live in January 2024 and will see ages nine to 18 visit in groups of up to eight to gain a better understanding of the potential consequences of carrying a knife.
Lincolnshireworld was shown around by Sgt Mel Standbrook who is championing the programme which has benefitted from surveys by the University of Lincoln and visits by officers to schools.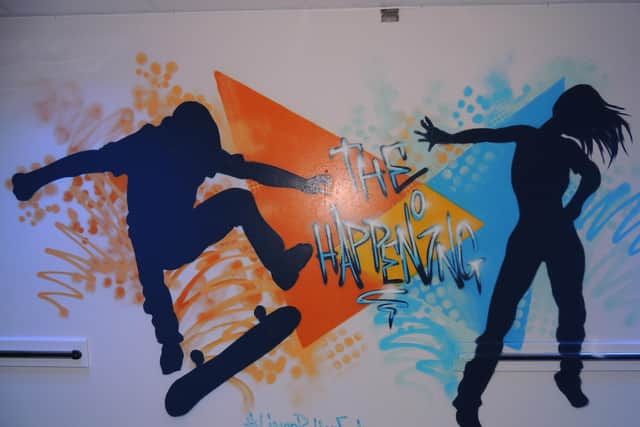 She said: "It is important to say we do not have a problem with knife crime in Lincolnshire, but we have to be aware and give young people that preventative message and the tools to help themselves and their friends, especially if they venture into areas that may have a greater problem.
"Historically we would lecture and tell, but that is not how young people learn. We have worked with criminologists, psychologists, LIVES and graphic designers.
"It is a 90-minute immersive experience fitting into the PSHE curriculum. The young people would only come once to the centre." The content would be pitched to the correct age group and they would navigate it themselves with little input from the staff.
"We want to make it tangible and interesting," she added: "This has to be a success and so we pulled in as many voices as possible."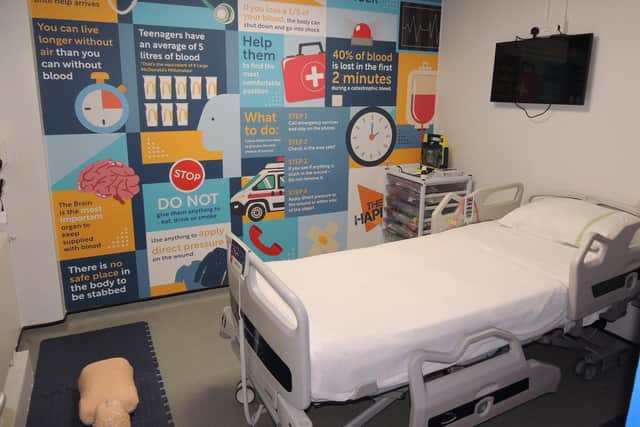 Debs Ryden, who is also on the team, explained the new project has helped young people to share their own stories and feel relief when they realise it is not that common or necessary to carry a knife (99.9% of young people do not carry a knife).
Having been given a workbook to use, as you enter the suite, you are led into a holding cell, where a video a young actor portrays a girl caught with a knife expressing her regrets. You will be asked who she could have made a change.
Another space is an empty bedroom with the walls covered in social media posts demonstrating how peer pressure and bullying is now 24/7, not just at school, but it can also misinform.
Another area will be filled with advice from once violent prisoners, commenting on what they may have missed out on due to their life choices.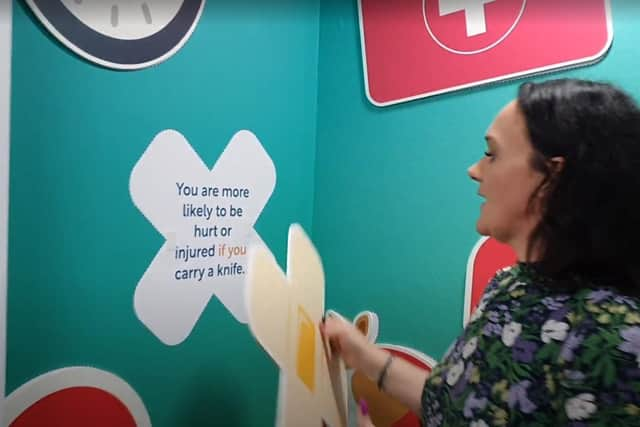 The link corridor has been plastered with graffiti-style positive words and messages. A further room will offer alternative ways to spend your time rather than gangs or violence, with signposting on ways to join a club or take up a hobby.
There is also a police interview room set up, playing recordings of young actors reading out transcripts of people caught having committed a knife-related crime, explaining their actions.
Another room has been lined with imagery to portray a bus stop scene where a video shows how a girl gets stabbed in an altercation and someone starts using first aid.
Students would then move on to a ​​​​​​​hospital ​​​​​​​bed scen​​​​​​​e, surrounded by chaos​​​​​​​, before learning to carry out CPR on a dummy ​​​​​​​to equip them in an emergency if something happened to a friend. Interactive graphics on the wall will give out some of the facts to dispel the myths around knives.
Finally the young people return to a reset room after the full-on experience, where they can jot in their workbooks, access information and helplines.
The centre should be in fully utilised with it also accessed by the Youth Offending Service.
Mel said: "This is where we need to go improve matters and I am really passionate about how the police should use education."