Crowdfunder set up to help three orphaned fawns in Lincolnshire
Two of the fawns were found clinging to their dead mothers' bodies – in two separate road collisions.
A fundraising appeal has been set up to help a Lincolnshire wildlife rehabilitation centre with the care of three orphaned muntjac fawns.
Wild Things Rescue is now caring for the animals and raising money to build them a permanent enclosure.
The charity is based in Tattershall, but has a wildlife hospital in Langrick, near Boston, where the fawns are being cared for.
They took in the three orphaned muntjacs in the past few weeks – but will be unable to ever release them back into the wild due to them being classed as an 'invasive species' in the UK.
At the end of March, fawns Bronti and Pipkin were brought to the centre for care. Bronti was found wandering around a building site, while Pipkin was discovered lying next to his mother on a roadside.
Then just last week, another orphaned fawn needed urgent help. Only this one had been injured and staff were initially very concerned for her chances of survival.
The tiny fawn was found on a roadside in the Skegness area, lying injured next to her mother's body.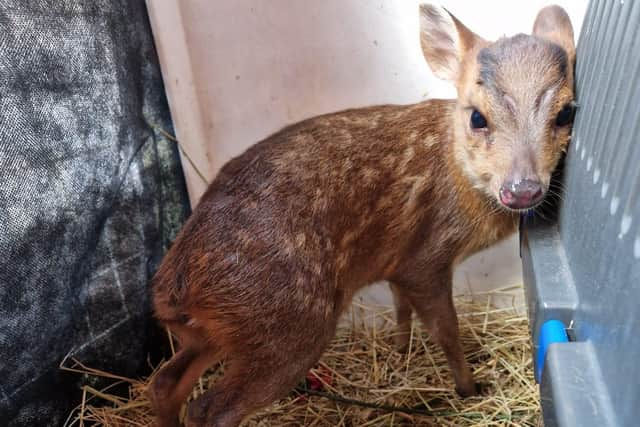 Lucy Steele, founder of Wild Things, said via Facebook at the time: "She was injured in the collision and had obviously been sat with her mother a little while when she was found.
"She's got multiple grazes to her head and a bruised tongue. She's also got a limp on one of her back legs. I can't say I'm overly confident about her chances and both her pain and stress levels will be closely monitored."
Thankfully a few days later Lucy gave an update to say the animal, named Poppy, was starting to walk about and feed.
"She's still incredibly scared, we can only imagine the trauma she has gone through, but she's coming round to the idea that we might be trying to help her," she wrote.
Speaking to Lincolnshire World today (Wednesday), she added: "All three are currently doing well. Poppy, the most recent intake, is making steady improvements each day.
"The enclosure we're building is an acre for them, but we have to have special fencing to prevent escape, to make sure we comply with legislation.
"We're in the process of getting a licence from Natural England for them as they can't be release due to the Invasive Alien Species Act 2019."
The centre is hoping to have the enclosure ready in the coming weeks – but is fundraising for £5,000 to help pay for it. They will have space for five muntjacs.
"We want to provide a facility so that, if muntjac do come into care and are suitable candidates for captivity, they are able to live a safe, enriched life," said Lucy. "Despite the £5,000 price tag, we think it's worth it to enable us to help these lovely creatures."
Muntjac deer were thought to have been brought to a UK park from China around 100 years ago, where many escaped. Adult muntjac only stand around 50cm tall, making them much smaller than other native deer species.
To support the muntjac appeal, visit Wild Thing's Facebook page, where you can make a donation.