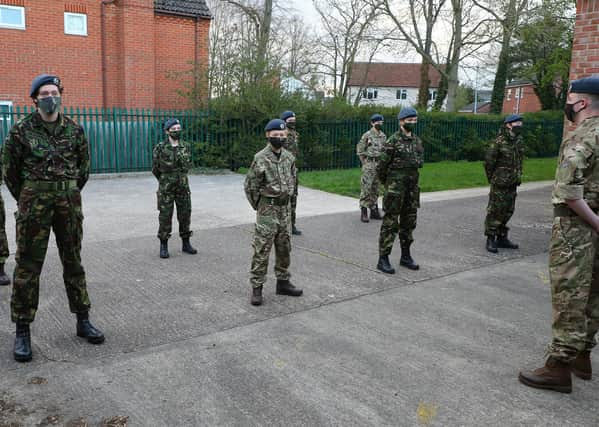 This process began with 'bubbles' being formed from the unit's four flights.
Each flight now has the opportunity to parade once a fortnight. In a carefully controlled manner, the first careful steps were taken with meetings conducted outdoors, socially distanced and, where appropriate, masks being worn.
With over 12 months since regular parade nights, it was quickly apparent that the cadets had all grown! Anticipating this, the squadron's supply officer had already been canvassing for updated sizes. All being well, the full return to uniform should not be long delayed.
Parade nights involved getting back into the routine of drill. This has enabled the cadets to regain their smartness and team discipline.
Following two weeks of outdoor meetings this week the action was allowed to move indoors, with scrupulous observance of covid avoidance rules, rigorous cleaning, hand sanitizing stations and social distancing advice.
The next step was to catch up with long overdue trophy, certificate and badge presentations. Cadets have still racked up an impressive level of achievement in areas such as Duke of Edinburgh's awards, exams, badges and online competitions.
The cadets were set scientific tests to problem solve, devise solutions, work as teams, and have fun.
Flt Lt Karen Turner, commanding officer at Sleaford said: "It has been lovely to see everybody back at the squadron over these last couple of weeks."
She hoped they would soon reopen the squadron to new recruits.