He's done it! Army Captain from Sleaford succeeds in swimming the Channel for forces mental health charity
A Sleaford Army Captain has succeeded in swimming across the English Channel, overcoming waves, currents and stinging jellyfish.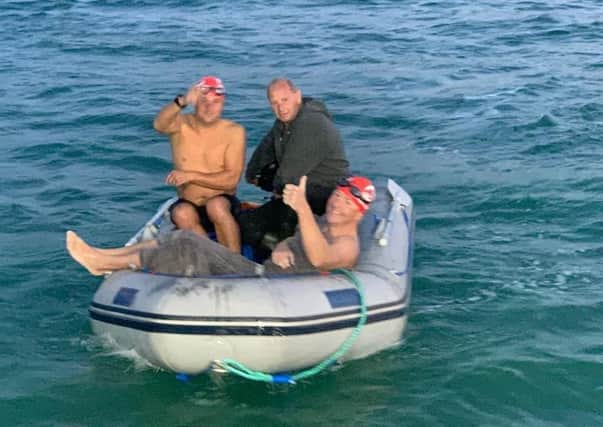 Captain Harry Grantham completed his cross Channel swim yesterday (Thursday) evening in a respectable time of 16 hours 37 minutes.
He landed at the beach at Wissant on the French coast before heading straight back in the pilot boat that had been escorting him through the busy shipping lanes all day.
Capt Grantham had set off at 3am in the morning having waited all week for a clear weather window to make the crossing safely with the aim of raising money and awareness for the Royal Artillery Charitable Fund to support Gunners dealing with mental illness, as he used to be in the King's Troop Royal Horse Artillery and remains a part of that community.
Capt Grantham had been attracted to the challenge because of the mental as well as physical demands he would have to face, having previously recovered from a period of mental illness following the break up of his marriage and relocating away from his family to London district headquarters with the British Army where he overseas all mounted troops in that area.
He hopes to break down the stigma of mental health among men, encourage those experiencing mental health issues to come forward and seek help at an early stage, as well as urging others to offer support if they see something wrong. So far his swim has raised over £6,000 for the charity.
Although the direct Channel crossing is 21 miles, Harry had to follow the tides, eventually covering 27 miles, despite experiencing problems with his shoulder during the swim.
The pilot boat helped to keep Capt Grantham safe and on the radar of other shipping, dodging container ships and ferries passing within a few hundred yards.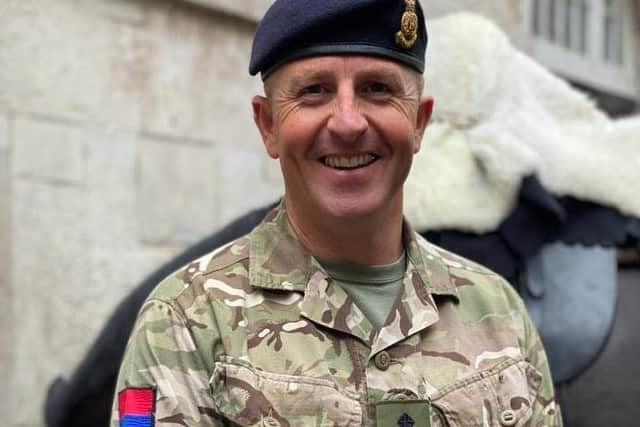 Although unassisted, the support crew were allowed to toss a water bottle on a line out to Harry to take on fluids while treading water for a few seconds. They also maneouvred the boat to shelter Harry from the wind as it picked up later in the day.
Harry's British Army colleagues in London posted on Facebook: "He's only gone and done it!
"In a mammoth 16 hrs and 37 minutes Captain Harry Grantham has become a fully certified solo English Channel Swimmer. After battling very choppy seas, devastating, energy sapping currents, and stinging jellyfish, he's reached the French coast. He's now out of the water and on the support boat on his way back to England.
"Proud doesn't even begin cover how we all feel about this monumental effort by an incredibly brave, mentally strong and altruistic comrade.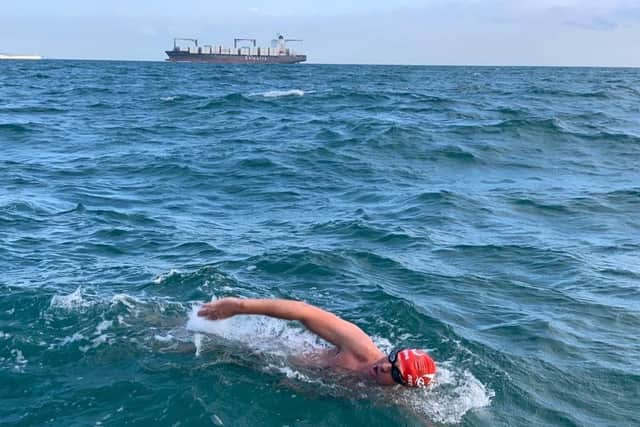 "Thank you for all your support and messages throughout the day, the donations and for believing in this truly amazing man and his effort to change behaviours and encourage people to reach out and help if they spot the signs of mental distress in others. On this #suicidepreventionday we couldn't hope for a greater role model or example of the real benefits of #armyconfidence.
"It's been a tough day and two nights of non-stop swimming for the Royal Artillery Officer and it's going to take days for his recovery - he won't be able to taste anything or move his arms for a while. But the relief and sense of achievement is immense. Please keep sharing and giving. Well done Harry, our superhero with fins."
Talking about the reasons for his swim, Capt Grantham says: "Although the NHS and Defence Medical Services' mental healthcare services are of a high standard and relatively easily accessed, many choose not to seek help. This may be due to the effects of stigma, either due to the personal meaning attached to help-seeking, or due to a wider concern about career progression and/or involvement of medical professionals.
"Those around me would not have been able to tell that my behaviour was anything other than normal."
In his case the Army Welfare Centre provided "invaluable" support, enabling Harry to get well again.