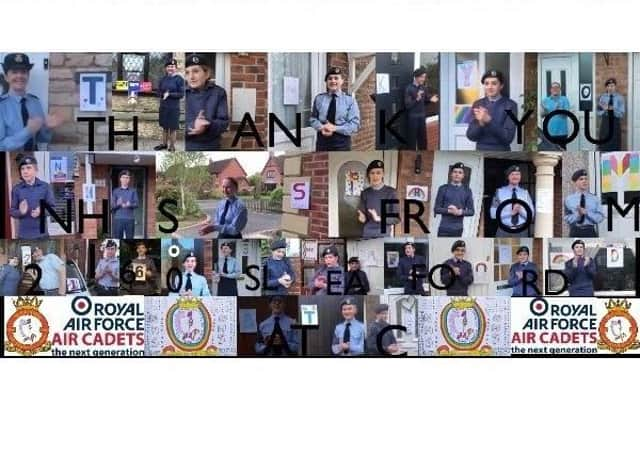 Commanding Officer of 2160 Squadron, based on The Drove, Flt Lt Karen Turner, said: "This is a luxury that did not exist at the time of other outbreaks, and an absolute godsend in such dramatic circumstances."
The unit has been meeting weekly via webcam chats and in a co-ordinated effort for the regular Thursday evening tribute to key workers during the coronavirus pandemic, the cadets and staff at the ATC squadron produced a video made to honour those who work in the NHS.
The unit have stayed in touch via their internet site and social media. It was while discussing ideas for group participation that the idea of the video was suggested. Once planned, individual members were assigned letters of the message and produced them using materials available in their homes.
Come the evening of the event Cadet Corporal Dylan Collier took on the task of turning the whole collection of photos and video clips into a viable presentation. Working late into the evening his efforts have garnered over 10,000 views across a number of Facebook sites.
Flt Lt Turner said: "We wanted to show our support for all those on the front line of this national emergency; I hope our video goes some way to show our appreciation of their care and dedication.
"The video was very moving and I was so proud being a nurse at a local surgery to be part of it. The photo captures a great moment."
She added: "We are engaging every week with some type of quiz or challenge and soon we will be launching a charity event for the Air Ambulance as they have sadly lost a lot if funding."