Prince Charles pays a flying visit to RAF Cranwell
HRH Prince Charles was in Lincolnshire as the reviewing officer for a special annual parade at RAF College Cranwell today (Thursday).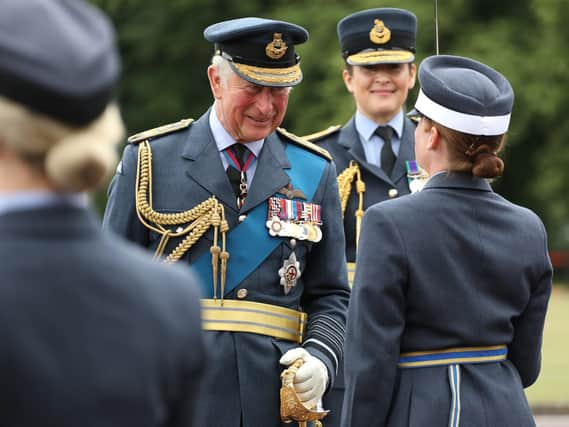 In the Royal Air Force College's centenary year, His Royal Highness, The Prince of Wales inspected the ranks of graduates for the Sovereign's Review at Cranwell.
The Prince arrived on the College parade square escorted by the college's commandant to take the Royal Salute while a Typhoon, from 41 Squadron, based at RAF Coningsby provided a fly past overhead. After reviewing the graduating officers, His Royal Highness presented the course prizes to the top performing cadets from each course.
The Queen's Medal was also presented to the top performing cadet from all Initial Officer Training courses this year.
The Sovereign's Review comprised of three Initial Officer Training Courses, Number 63, 64 and Specialist Officer Initial Training Course Number 3. In a first - due to Covid-19, the graduates assembled on parade in accordance with Government social distancing guidelines. Normally family and friends would be invited to watch the ceremony but, on this occasion, they were unable to attend.
The parade concluded with a spectacular fly past by the Red Arrows. Musical accompaniment was provided by the Band of the RAF College, under the direction of Flt Lt Chris I'Anson, Director of Music.
Commandant, Air Commodore Suraya Marshall said: "We are immensely proud to have His Royal Highness The Prince of Wales as our Sovereign's Parade Reviewing Officer. The graduates have endured the most challenging of training periods, this is a truly unique occasion of which all participants can be justifiably proud."
After the parade, Prince Charles met with the graduating officers on the Orange in front of the College Hall. In keeping with tradition, he was then invited to plant a lime tree beside the college parade square.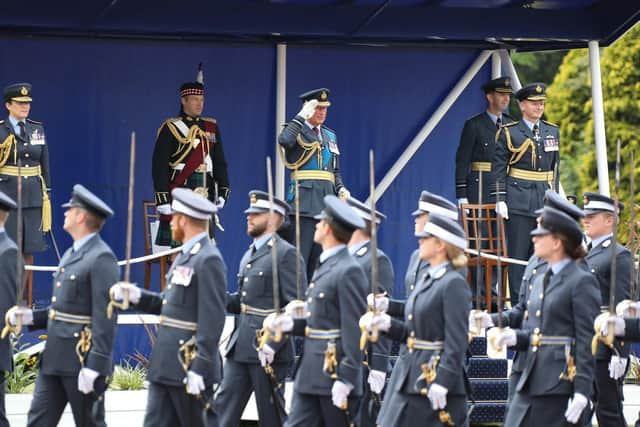 Graduating Flying Officer Deonte Jam said: "Today, is a truly special day, not just for me, but my family and friends. My cohort and I have worked very hard to attain such a great achievement. I am eager to excel and excited to see what new experiences my role will provide. I am truly honoured and grateful for such a great opportunity. Congratulations to my fellow cadets".
The celebrations were later followed by a flying display by the Red Arrows.