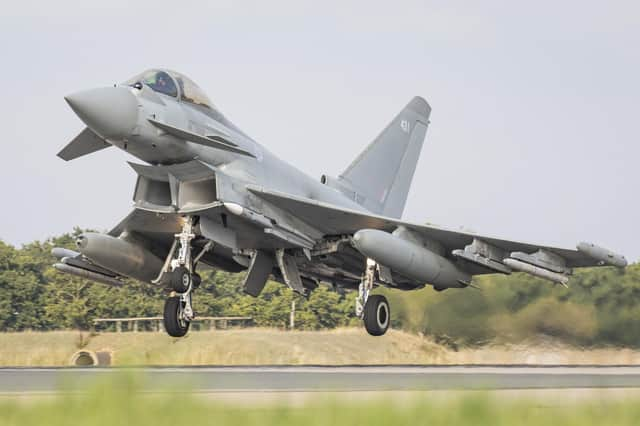 The aircraft were refuelled in-flight with a Sustainable Aviation Fuel (SAF) blended at around 46 to 48 percent with regular jet fuel by an RAF Voyager Air-to-Air tanker.
Sustainable Aviation Fuel – made from waste-based sustainable feedstocks, such as used cooking oil – reduces lifecycle carbon emissions on average by up to 80 percent compared to conventional jet fuel.
Over time, increased use of SAF should lessen the RAF's reliance on global supply chains and fossil fuels, and so improve operational resilience.
The Voyager was previously used in successful initial trials in November 2022, where it flew on 100 percent SAF and the RAF worked with Air BP to re-certify the fuel and achieve the required standards needed for a safe and effective mission.
This development is another big step by the RAF towards achieving Net Zero by 2040.
Squadron Leader Gaz Evans, RAF Supply Project Manager, said: "We have learnt a great deal during this trial and now have confidence in our ability to use blends of Sustainable Aviation Fuel now and in the future.
"The trial proved there is no detriment to performance as we strive towards reduced emissions targets.
"This was a first for both Typhoon and the Hercules and we are hugely grateful to Air BP for their expertise in assisting us with the re-manufacture and re-certification process to enable this successful result."Defence Minister, Baroness Goldie added: "This is another key achievement in the Royal Air Force's remarkable progress to increase their use of sustainable fuel.
"With potential benefits for the environment and operational resilience, this important work alongside expert defence industry and scientific teams in the UK is crucial for the RAF's future resilience."
"Different approaches to reducing carbon emissions will suit different platforms and environments.
"As such, a range of alternative fuel options are being looked at to ensure the UK is at the forefront of all developing technology.