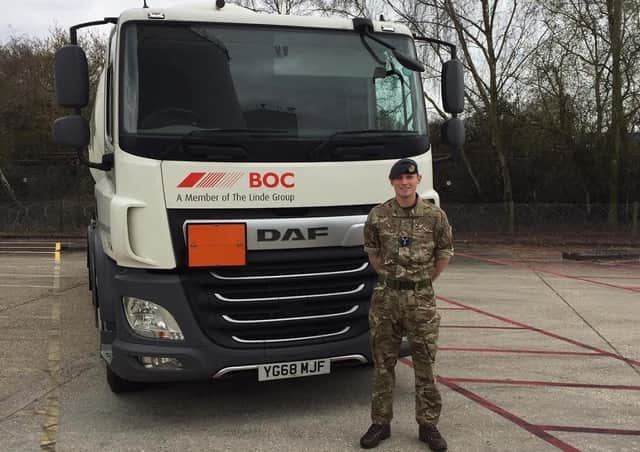 As well as personnel being earmarked to man Covid-19 testing stations they have also been redeployed to utilise their skills from everything as diverse as driving fuel tankers and ambulances to working as first responders.
At times of national emergency, where the demands are extraordinary, the military are called upon to assist to support the national effort.
Senior Aircraftman Jack Curtis, from RAF College Cranwell, is just one of the many personnel who have been deployed to utilise his skills during this crisis in the COVID support force, also known as Military Aid to Civil Authorities.
Following a period of training, Jack is now delivering vitally needed oxygen to keep ventilators running at NHS facilities.
SAC Curtis said: "I am one of four RAF personnel currently at British Oxygen. I think I can speak for all of us – we feel incredibly proud to be assisting the NHS with all that they're doing and bolstering the workforce of the oxygen delivery companies that are running 24/7 to keep the hospital tanks full."
Up to 150 military personnel have been trained to drive tankers to support the NHS if required.
Since March, the military has mobilised up to 20,000 troops to help national efforts as part of the new COVID Support Force to step into roles providing aid across the UK.
With an additional 10,000 military personnel placed at higher readiness and Reserves on standby, these measures are part of contingency planning to support public services when needed.
Military Aid to Civil Authorities (MACA) is often called upon in times of crisis to support UK authorities.
Assistance was initially confined to repatriation flights - bringing British citizens home from affected areas around the world such as China, Japan and Peru. They have also been providing specialist military planners to Local Resilience Forums that help public services, local authorities and emergency services prepare their response to coronavirus.
Scientists from the Defence Science and Technology Laboratory are supporting Public Health England's effort to understand the virus and tackle the spread.
Major General Charlie Stickland, Assistance Chief of the Defence Staff Operations and Commitments said: "The COVID Support Force will form part of a whole force effort to support the country during its time of need. Our servicemen and women are committed to maintain our operational output and delivering any support the government requires."
○ Meanwhile, a member of the airfield team at RAF College Cranwell is volunteering as an emergency responder in the county.
Warrant Officer Dave Hughes is a member of the Aerodrome Operations and Airfield Services Project Team based at RAF College Cranwell.
WO Hughes gives up his spare time to volunteer as the Team Leader and Volunteer Emergency Responder for the RAF Wittering Co-Responder team supporting the East Midlands Ambulance Service within Lincolnshire and neighbouring counties.
EMAS serves a population of 4.8 million people and on average they receive a new call every 40 seconds.
Warrant Officer Hughes said: "I complete at least one shift of at least six hours per week. Last year I completed 411 voluntary clinical hours in addition to training and other activities that the team are involved in."
He explained: "I became a volunteer to make a positive contribution to the community."